This post may contain affiliate links. Read my disclosure policy here.
I LOVE watching cooking shows.
I find them hypnotic – I simply can't turn away as I watch the host, in mere minutes, magically transform raw ingredients into beautiful meals.
It is like going to cooking school at 1am in my pajamas, while I sit transfixed eating a bowl of cereal, dreaming of how the food on the screen must taste.
These shows are priceless for inexperienced cooks like me. I really need all the help I can get!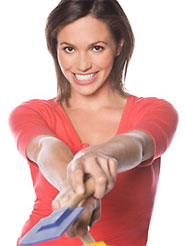 So for me, Ask Aida is the perfect show!
In her interactive cooking show, Ask Aida, cooking expert Aida Mollenkamp prepares delicious dishes while providing answers to questions submitted by Food Network viewers. From recipe and ingredient issues to advice on kitchen machinery and tools, Aida can even offer guidance for impromptu parties, feeding a crowd, make-ahead dishes and time-saving tips.
And guess what – Aida is going to answer our 5 Minutes for Mom readers' questions in an upcoming satellite media tour she's doing on December 2nd.
So let us know what you need to know from Aida.
Do you have a holiday-themed cooking question to ask Aida?

We will choose three questions to submit to Aida by Nov. 26th.
If you want some help thinking of some questions, or if you just want to fall under the spell of her cooking show, you can watch videos of Aida answering questions and solving cooking conundrums at Ask Aida on the Food Network.com.
UPDATE: We just found out, the show is looking for BAKING holiday related questions. Please submit your BAKING questions to be considered for the show.