This post may contain affiliate links. Read my disclosure policy here.

Take LEGO®, add BATMAN™, and put them together with PLAYSTATION®, and you have a seriously cool hit with young gamers!
Can you hear the screams of happiness from my son? Can you see him flipping off the furniture and tearing around the room in a victory lap as if he just won an Olympic Gold medal?
I don't mind the noise one bit. He is in boy paradise — reveling in the excitement that a gaming console can bring a testosterone-infused child.
Personally, I don't get it. I could happily live without ever touching a video game. But, a couple years ago, I recognized that I can't say the same for my son.
He LOVES to play video games – especially the LEGO series. I am very careful about how much time he plays and I use it as reward time for good behavior, doing his homework and piano practice etc. So, for our family, I think we have a happy medium.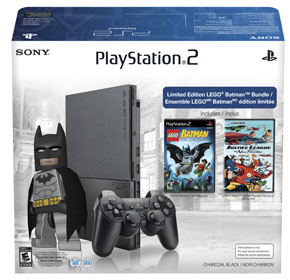 If your family is looking for an affordable gaming system, the PlayStation®2 system – the most successful console in industry history – is a great way to go. SCEA will also launch more than 130 new titles for PlayStation®2 system this year, totaling 10,000 PlayStation®2 titles by end of the year.
The LIMITED EDITION PlayStation®2 LEGO® Batman™ Bundle is a totally cool package and perfect for boys.
Priced at only $149.99, (a $30 discount off the total retail value of $179.99) this PS2 bundle may be just the right gift for your family this year.
LIMITED EDITION PlayStation®2 LEGO® Batman™ Bundle


LEGO® Batman™: The Videogame is the latest game from the award-winning team behind the LEGO Star Wars game series. With trademark LEGO fun and charm, the game takes you into the world of BATMAN, the ultimate crime-fighting hero. RATED: E 10+

Justice League: The New Frontier is a DC Universe animated original movie. This epic tale is an action-packed adventure about the founding of the Justice League. It features DC Comics legends SUPERMAN, BATMAN, WONDER WOMAN, plus many more. RATED: PG 13

Enjoy it all on the PlayStation®2 system–with its enormous game library of over 1,700 titles, online capabilities and a built-in DVD/CD player.

Bundle includes:

PlayStation®2 system (Technical Specifications)
o DVD and CD playback
o Digital surround sound
o Two memory card slots
o Integrated Ethernet port for network gaming
DUALSHOCK® analog controller
LEGO® Batman™: The Videogame
Justice League: The New Frontier (DVD video)
AV Cable (integrated audio/video)
AC Adaptor & power cord
If you have a child in your house who would do some furniture flips over a LIMITED EDITION PlayStation®2 LEGO® Batman™ Bundle, then enter to win! We have one bundle to giveaway.
As well, we would also like to thank PlayStation for their generous donation of a bundle for our Under The Tree Program.

Here's how to enter to win a PlayStation®2 LEGO® Batman™ Bundle , retail value $149.99.
See our Christmas Giveaway 2008 post to read more about
participating in our Christmas Giveaway

Either link back to this post and include a Christmas Giveaway 2008 button in that post or on your sidebar, or link to the individual giveaways you choose to enter. We have a ton of different buttons and styles for you to choose from. Click here to get the button codes. (If you post and include the button, either in your post or on your sidebar, and link back here, you are good for all the giveaways. No more linking required.)
Please leave one comment below to enter this giveaway. You may earn additional entries for the following:
1. Subscribe to our Feed
2. Sign up for our Newsletter
If you are already subscribed and are on our newsletter list, you qualify for these two additional entries. Go ahead and leave your additional comments below.
As always, non bloggers are welcome to participate! We understand you can't link – but please spread the word to your friends via facebook, twitter, etc.
Entries are open from Wednesday, November 19th thru Friday, November 28th at 12pm EST.
Our winner will be drawn randomly and we will announce the winner Monday, December 1st. Please make sure to check our site and your email address to see if you have won a prize. We must receive your reply within 5 business days. (If you want your prize to arrive in time — the sooner we hear from you, the better!)
This contest is open to US shipping addresses. Due to legal restrictions, this promotion is not available in Arizona.
Please see our site's Terms and Conditions of Use for a complete list of our Contest and Giveaway Rules.