This post may contain affiliate links. Read my disclosure policy here.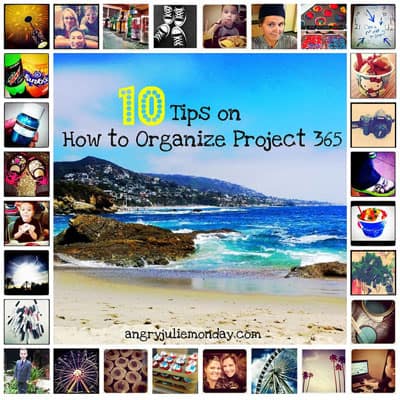 The New Year is here — and with it a whole new batch of Project 365. If you have been anywhere near Pinterest and Facebook, you have seen calendars with the first few Project 365 photos proudly displayed, a whole year's worth waiting to join them.
But, you might have been wondering, what is Project 365 and have my friends lost their social media minds again!?!
To get all the info on Project 365 — and help anyone attempting this daunting task to do it successfully — I cornered Julie Dance, aka @AngryJulie, and Project 365 survivor. This week, Julie published an incredibly helpful post, How To Organize Project 365 and Stay Sane, with 10 tips on how to organize your Project 365.
Watch out… I predict you are going to be adding Project 365 to your New Year's Resolution List.
Janice Croze: OK — Julie, what IS project 365???
Julie Dance: Project 365 is committing to taking one photo a day for a year — or as this year, it shall be called Project 366, with the Leap Year.
Janice Croze: When did Project 365 start? I remember my friend Tasra Dawson hosting a 365 challenge, but lately I have been seeing people posting their projects on Facebook.
Julie Dance: After doing some research for my post, I found information going back as far as 2006. I think Pinterest on all of the cool photo projects had spawned everyone's interests this week.
Janice Croze: So is there a place where people are posting their projects and sharing? Is it Flickr based?
Julie Dance: I posted every day on Instagram, then had it sent to my Flickr account, where I had a set. Then every week I did a recap post, because really the point is to look back at them, to see your past year. If you can't find them, why bother.
Janice Croze: Exactly! But Julie — what happens if you miss a day? I am stressing just thinking about the pressure!
Julie Dance: I missed probably 2-3 days because of work being insane, etc. So I had some days where I take multiple photos like 5-6, I used a photo of a can of Dr. Pepper or my shoes or something. But I felt dirty, my OCD was mad at me. I can tell which photos they were, my upload dates on the photo is different, hanging my head in shame.

CONTINUE READING at BABBLE'S MOMCRUNCH…
If you found this post helpful, we would love it if you gave it a Stumble, Tweet, Pin, or Facebook Like. Thanks so much! We really appreciate your support of 5 Minutes for Mom.
Written by Janice Croze, co-founder of 5 Minutes for Mom.
We want to get to know you better — Tweet with us: @5minutesformom, find us on Facebook: Facebook.com/5minutesformom, or join our newsletter list.