This post may contain affiliate links. Read my disclosure policy here.

Project to Tackle: Fridge Door

It is one of the first places a visitor searches out – the fridge "scrapbook." And mine is a mess with outdated pictures and no room for new ones, art projects that are month's old and mismatched magnets.
Now tonight I didn't cure it all. I still need some decent magnets and I really should part with some of the older pictures of Jackson, but I got it a bit more under control.
Here is the state of the fridge before:
Fridge Door Before:
And here it is after. Lots of room for improvement, but I just had to get it at least a bit more presentable and get a few pictures of Julia up.
Fridge Door After: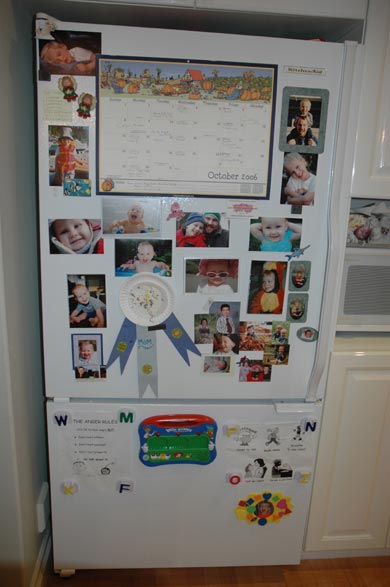 Join Us For Tackle It Tuesday

We're making housework blog-able!

Each week on Tuesday, we are posting before and after pictures of a project or trouble area that we tackled this week.

Find out more about Tackle It Tuesday here.

The project can be little or big – whatever you want. Basically, Tackle It Tuesday is about giving ourselves incentive, deadlines and satisfaction in getting our household tasks done.