This post may contain affiliate links. Read my disclosure policy here.
Every year at this time, my heart leans towards giving back more than any other time of year. I guess that is because I know what it means to be without and how horrible that feels. I cannot imagine any other family having to go through times when they don't know where their next meal is coming from, or how to make ends meet.
My husband and I decided long ago that we were going to teach our kids the importance of giving back and helping others — even when we don't feel like giving. It's a vital and healthy trait to learn for all family members.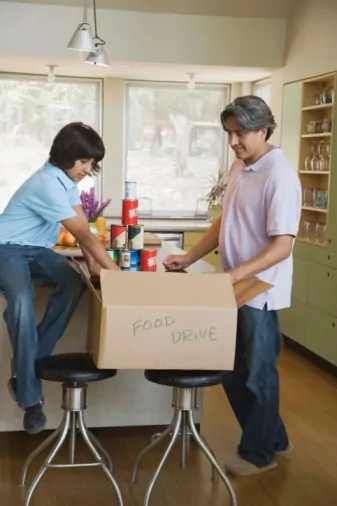 Ways to teach your kids to give back
There are many things we can do to help teach our kids to give back. For us, we wanted to focus on ways to bless people with real needs so we started out focusing on giving back using these ideas:
Food Baskets
Clothes Drive
Raising money for monetary needs
Giving of toys to children who lost everything in a fire
Thanking workers who never get a day off, who live to serve and protect us
Helping the older generation with daily chores

Kidworth can help your child meet his charitable giving
Since we have been using Kidworth, our kids have been able to really keep up with their fund raising goals. Recently my son wanted to raise money to help bless another family who was really struggling at Christmas time. He created the campaign in his Kidworth account and then sent a message to all his friends and family members asking them to donate to his cause. In the end, he raised almost $500 to give to this family as a gift. It was a true blessing in disguise.
This coming year in 2012, make it a point to really set some goals for your children. Teach them about the important things in life — helping others, saving for their future, and passing that on to someone else.
What goals do you and your child want to set for 2012? Let Kidworth help organize those goals!
This post is part of a promotional campaign with Kidworth. All opinions are our own.