This post may contain affiliate links. Read my disclosure policy here.
Do you use "time outs" with your children?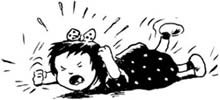 From nannies on TV, to a myriad of parenting books, experts are continually preaching the time-out parenting technique. But although it has become a popular method to reign in kids, there is controversy about how to apply the technique.
How should we use time outs?
I have heard experts say to put children on a step, while others say children should be put in a boring room with nothing to entertain or stimulate them. In contrast, I have also heard some teach that using the child's bedroom for a time out can be effective.
Another point of discussion is whether the time out should be seen as a punishment or as a positive opportunity to help children to learn to calm down and remove themselves from stressful situations.
An interesting parenting article in Parent Center teaches this method of not approaching timeouts as negative.
(I think the only thing everyone agrees on is that you should keep the duration consistent with a timer.)
I use time outs with my four year old son with mixed success.
Although I have heard this point of view that time outs should be positive and I agree in theory, my 4 yr old son hates to be removed from the activity and so he sees it as "punishment".
(I use a chair in the living room and if he doesn't stay there, then he goes to his room. If he leaves his room, then I shut the door.)
I do try to use different kinds of rewards and consequences instead of resorting to time outs for punishment, leaving time outs for when my son does need time away from the situation to calm down. But then desperate for a punishment after taking away toys and privileges, I hear myself threatening, "You are going to go for a time out."
Too often, I just feel like I am fumbling through, trying to improvise as I go!
One really helpful tool has been 1-2-3 Magic
.
I love this simple approach.
I tend to talk too much (surprised?) and this succinct method works brilliantly with my child.
We would love to hear how you incorporate time outs in your home and what you find to be most effective.
What books have you found helpful?