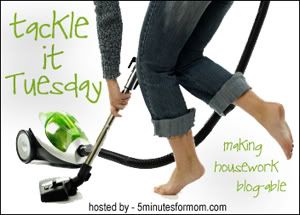 Hello ladies! It's Lisa, the Apron Queen– your resident tackler. Welcome to Tackle It Tuesday!
I need to tackle a new hairdo. Should I go long and blonde with a tiara crown, like Lauren Nelson (Miss America 2007)?
Or should I stick with being a redhead, just with a new 'do? Come help me pick out a new hairstyle by voting for your favorite one over at my blog, Confessions of an Apron Queen.

Meanwhile, we have a wonderful guest tackler for you this week. Please give her a warm welcome and stop by her blog to say Hello.
Hello. My name is Andrea McMann from Chocolate Fingerprints.
 After years in storage, I dug out my sewing machine about six months ago. Since then, sewing has become a pretty big part of my life.
It's relaxing, almost therapeutic, and I've been having tons of fun supplementing my kids' and my own wardrobe.
This week, I made two skirts for my daughter from a free online pattern from Oliver & S. It's so easy and cute that I plan on making many, many more of these skirts in the near future!

 
I sew clothes for my daughter more than I sew anything else. For one thing, it's so fun to make frilly little girly things, and she's so appreciative!
I also make her clothes out of necessity. She's at the tricky age where clothes that fit her widthwise don't fit her lenghtwise. When I sew her clothes, I can alter the patterns however I need to, so that they'll fit her correctly. Sewing also saves me money, which is never a bad thing!
 
I love making cute little skirts, but I hate making hems! They're time-consuming and tricky, and sometimes they just get on my nerves!
That's why I love this pattern. It features a "ribbon hem," which not only makes hemming a breeze, but also leaves a super cute ribbon edging at the bottom of the skirt. This would be an terriffic project for a beginning sewer.  As you can see, my daughter loves her new skirts.
When I post a finished sewing project, I always like to mention how long it took me, and how much it cost in total. These skirts didn't cost me much, timewise or monetarily.
Both skirts were made with thread and ribbon I already had, either given to me or from previous projects, and one of the skirts was made with fabric I already had, too.
The only things I had to buy were elastic for both skirts and fabric for one skirt. The elastic costed $1.50 and the fabric was .50, bringing the grand total to $2.00! You can't beat that price!
 
I'd love to hear what everyone thought of my tackle! Come visit me some time at Chocolate Fingerprints!
We strive to highlight other Moms, their blogs and their tackles approximately every other week. If you'd like to be a guest tackler, please just e-mail The Apron Queen at tackleittuesday@gmailcom. We'd love to have you!
Join Us For Tackle It Tuesday

We're making housework blog-able!

Each week on Tuesday, we are posting before and after pictures of a project or trouble area that we tackled this week.
If you tackled

a project

this week, just add a comment and add your link below.

Happy tackling ladies…