This post may contain affiliate links. Read my disclosure policy here.
Holiday season is party season. It seems like there's a party every weekend from Thanksgiving to Christmas, and the question on many people's minds is how can you make yours stand out? Certified Specialist of Spirits and Master of Wine Jennifer Simonetti-Bryan took the time to answer some of our holiday party questions.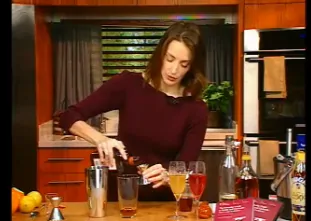 Here's what we asked Jennifer:
We'd love some suggestions for new and unique drinks to serve at this year's holiday parties. Do you have any cocktails that you would recommend?
We'd love to hear your tips on the best foods and drinks to pair together at parties. Sometimes coming up with the menu is the hardest part of planning a party!
What do you recommend for those party-goers who do not drink alcohol? Do you have any festive mocktails that are both kid and non-drinker friendly?
When we're getting ready for holiday get-togethers this season, is there an easy way to know how much food and drink to purchase for a certain party size?

Here's what Jennifer had to say to 5 Minutes for Mom:
MORE ABOUT JENNIFER SIMONETTI-BRYAN: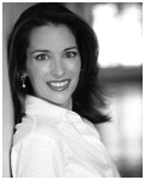 Jennifer Simonetti-Bryan is a definitive authority on spirits in the United States and among a small number of people to have received the highest credentials in the spirits and wine industry. She has a Professional Certificate in Spirits from the Wine & Spirit Education Trust and is a Certified Specialist of Spirits from the Society of Wine Educators. Ms. Simonetti-Bryan is also one of only a few hundred people in the world to hold the Master of Wine title (M.W.) from The Institute of Masters of Wine in London, England—the highest and most difficult title to achieve in the industry. Winner of the Wiesbaden Tasting Trophy from the Institute of Masters of Wine, Ms. Simonetti-Bryan has trained thousands of professionals in the spirits and wine industry, has judged international spirits and wine competitions, and has hosted seminars with Food Network stars including Rachael Ray and Bobby Flay. She is a frequent guest on television programs, including Fox Business and Bloomberg TV, and has been featured in Fortune, Wine & Spirits Magazine, and Wine Enthusiast Magazine.
MORE ABOUT THE GREAT COURSES:
Designed to meet the demand for lifelong learning and to change the way people think about the world, The Great Courses is a highly popular series of university-level lectures crafted and delivered by top professors and experts. The Great Courses currently offers more than 350 courses in a range of video and audio formats including DVD, CD, and digital downloads. Courses span more than 5,000 hours of content across ten subject categories: science and mathematics, history, fine arts and music, religion and theology, philosophy and intellectual history, literature and English language, business and economics, better living, professional, and high school. Since 1990, over 10 million courses have been sold around the world.
Disclosure: We did not receive anything in exchange for this interview. This opportunity was made possible by The Great Courses.

Written by 5 Minutes for Mom managing editor, Lolli. You can find me blogging at Better in Bulk and tweeting at @1momof5.