This post may contain affiliate links. Read my disclosure policy here.
Tobei and I are currently living in a rental house with strict rules–"No paint color besides the 5 approved white/beige shades". I hate this rule, especially when I was pregnant and wanted to decorate the nursery. What were we to do?
Along came Pink and Blue Baby with their creative wall decals. Wall decals are the next best thing to actually painting murals and such on the wall with the added bonus of being removable. This means you can redecorate the room without having to repaint over a previous design. Definitely handy in my opinion for parents who have very little free time as is.

I received two of the elegant script custom name and royal crest frame decals. One for each door of my kids bedrooms. I loved that not only is it a custom order so that it would have my child's name on it and the first letter of their name, but I was also able to choose from a wide range of colors. I chose Genetian Blue for Little Brother and Red for Big Brother.
I received the items in a timely manner and one night after Big Brother went to bed Tobei and I decided to go and install the first decal onto Little Brothers door.
The instructions sounded easy enough and I thought I could do it by myself, but the only problem was I lacked the patience, so Tobei came to install it. You start off by taping the decal in place. You then need to pull the sticker and film away from the paper backing. At first, the decal did not want to stick for us. Once we finally got it working, we had to pull it back very slowly while removing the sticker from the paper so that it would stick properly. This was where Tobei started joking that he needed 6 hands. We had the same problem after removing the paper backing and applying the sticker to the door. As you can see in the picture below we solved this problem by using a knife to make sure we installed it correctly.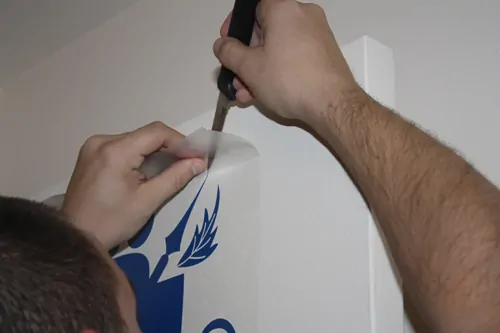 Other than that, the installation process was pretty simple and only took us about 15 minutes total. Tobei's arms were hurting afterwards so we waited until another day to install the other decal on Big Brother's door.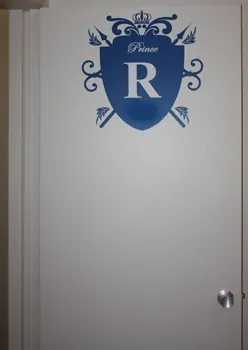 I did blur out the name on the bottom since I do not use my children's name online, however the script is the same on the bottom as it is for the top.
Would I order from Pink and Blue Baby in the future? I definitely would. The decal designs are gorgeous, wonderfully made and shipment is fast. I would just make sure to have help and child free time to install it. 
Win a Two Nests on the Tree Nursery Removable Wall Vinyl Decal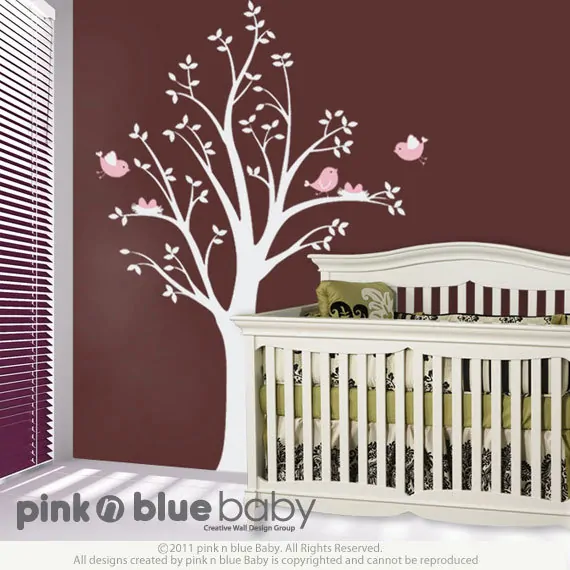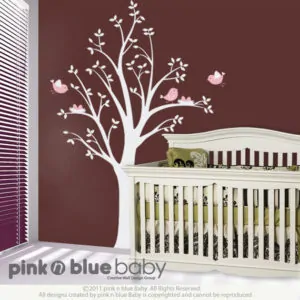 One 5 Minutes for Mom reader will be getting their own Two Nests on the Tree decal to decorate with (this is the item pictured to the left).
To enter the giveaway, simply visit the Pink and Blue Baby Etsy store and then come back here and tell us what decal set is your favorite.
This giveaway will end on December 23, 2011 at midnight ET and a winner will be chosen at random and announced on Sunday in the weekly Around The Blogosphere. Please see our site's terms and conditions for more information.

Stay at home mom to two wonderful boys. Big Brother who is 4 and Little Brother who was born on Halloween. Sharing our lives and anything that interests me at my blog Nolie's Place. You can also find me on twitter when the baby lets me have some free time @NoliesPlace.