This post may contain affiliate links. Read my disclosure policy here.
When I was little, we always had a large gift basket or two during the Christmas season. I don't know who sent them to us, but I only know that they were always there.
Nuts and cheeses and candies and big baskets with bows became something that symbolized the holidays for me. After I left home and eventually got married, we had a gift basket dry spell. I missed those baskets full of sweet, salty, and savory treats.
The year that my dad sent a gift basket to us was such an exciting, nostalgic one for me, and I loved sharing that holiday memory and tradition with my kids. Now, we get gift baskets every year (though often I just get them for myself).
We recently had a huge gift basket delivered to our door from Wine Country Gift Baskets, and the kids were especially excited when we opened it. Inside was a little bit of everything – chocolates, crackers, popcorn, etc. The kids and I (and Dad, too) loved tearing through the boxes and trying a little bit of everything.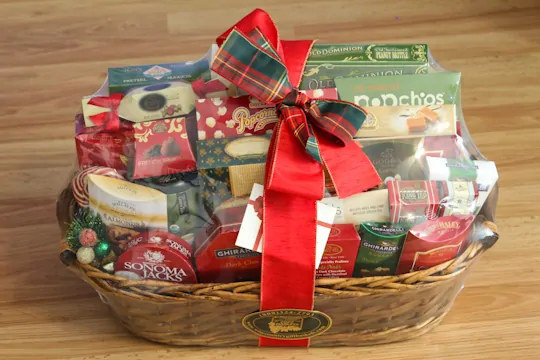 I selected The Festive Gourmet, which is $74.95 plus shipping, and includes Buttercrunch toffee cookies, honey mustard pretzels, French truffles, sea salt almonds, Godiva white and milk chocolate truffles, Sonoma Jacks garlic herb cheese spread, chocolate graham crackers, peanut brittle, organic green tea, butter cookies, Lily O'Brien's chocolate chip cookies, smoked salmon, vanilla sea salt caramels, Ghirardelli dark chocolate with caramel, double chocolate hot cocoa, extra dark chocolate hazelnut pralines, peppermint puffs, olives and more.
They had ME at Ghirardelli.
I was impressed with the quality and variety of the food and snacks in our gift basket from Wine Country Gift Baskets. In looking at the selection of holiday gift baskets on their site, they had several options that were full of amazing treats. Take a peek at Season's Greetings (which includes free shipping!), Holiday Delight (this one is enormous!), and Happy Holidays (a smaller option, also with free shipping).
True to their name, Wine Country Gift Baskets also has an extensive selection of wine gift baskets, as well as occasion-themed baskets that make the perfect gifts for housewarmings, new baby, anniversaries, birthdays, etc.
Enter to win a Holiday Gift Basket
To enter to win the The Festive Gourmet from Wine Country Gift Baskets (the same one that I received), leave a comment on this post letting us know what kind of gift basket you would love to receive the most. Do you see another basket on their site that has you drooling?
This giveaway will end on December 17, 2011 at midnight ET and a winner will be chosen at random and announced on Sunday in the weekly Around The Blogosphere. Please see our site's terms and conditions for more information.
Disclosure: I received a gift basket from Wine Country Gift Baskets to review, but the thoughts and opinions about the product are my own.
Written by 5 Minutes for Mom managing editor, Lolli. You can find me blogging at Better in Bulk and tweeting at @1momof5.