This post may contain affiliate links. Read my disclosure policy here.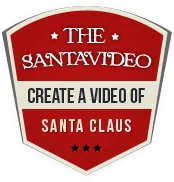 My oldest son is turning six in a few weeks.  From the time he was 3 maybe, he actually doubted that Santa existed.  No matter what we told him, he was not having it.  Sure, he was happy to sit on his lap at the mall and ask for things…as well as get the toys on Christmas.  But he would frequently tell me that he didn't really think there was a Santa.  Broke my heart a little.  This still went on again at 4.  It was only when he was turning 5 that he started giving in to the idea that OK, maybe there is a Santa.  And let me tell you it took a lot of work on my part to get him to that point.  It didn't even matter that his younger brothers believed wholeheartedly, he was my skeptical one.
If only I had known about The Santa Video.  I honestly think he would have been sold right away.

What IS The Santa Video?
It's a video that you create for your children in just 3 simple steps.
Step 1 – Take a photo somewhere in your home, like the living room or by your child's bedroom.  Upload it to their website.  This will be the background you see Santa standing in.  As if he was actually in your house.
Step 2 – Select one of 5 short videos with Santa.  One has him in front of the photo you uploaded eating cookies and milk.  So cute!
Step 3 – Choose one of 5 Christmas songs (or no music if you like) to set the video clip.
And you are done!  It's that fast, that easy!  You can embed your video on your own website, blog, Twitter, Facebook, even send through email.
For just $14.95, you will receive your video instantly by email in both a streaming and downloadable MPEG format.  The video you make will be available to download for a full year.  In fact, if you Like them on Facebook you get $4 off!
This would have made a believer out of my guy even sooner, I know it.  To a kid like him, this would have been actual proof.  Still have a skeptical kid?  Don't have a video camera, what do you tell the kids?  The elves took the footage, they brought along their cameras and everything!  And for the kids who already believe wholeheartedly… still awesome.
Enter to win
The Santa Video is going to give 5 readers their very own code so that they can create a video of Santa in their home. To enter this giveaway, just leave a comment letting us know how thrilled your child would be to see Santa in their house!
This giveaway will end on December 18, 2011 at midnight ET and a winner will be chosen at random and announced on Sunday in the weekly Around The Blogosphere. Please see our site's terms and conditions for more information.
This post is part of a promotional campaign with The Santa Video.