This post may contain affiliate links. Read my disclosure policy here.
Chris Molnar, party Dad of two preschool daughters and editor of Themeaparty.com, gives some fun tips on a unique Christmas party experience.
You probably feel like you've been to every type of Christmas party imaginable. You've seen it all done before and therefore feel like there is no way of making your party unique. No matter what the age of the participants, there are some activities and traditions that carry over from party to party.
Though some traditions and rituals are good, sometimes you want to shake it up a bit. How can you make your party really sizzle? What can you do to make your Christmas gathering unique and memorable for everyone?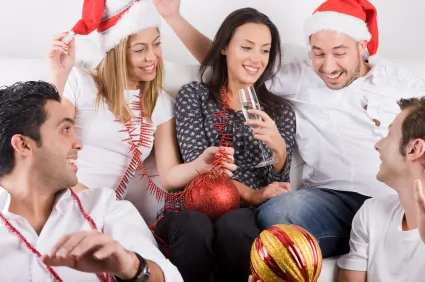 Fun for the Younger Set
Focus in on the age group and then plan your activities accordingly. If you have ever planned a big birthday extravaganza, then chances are you've had to come up with themes for birthdays and you know how hard that can be.
How about setting up a fun little station where kids can create something of their own? Put out little angel and snowmen ornaments that they can decorate. This keeps with a theme and keeps it simple enough for you to purchase what you need ahead of time.
Center your activity around the theme of your party—if it's not angels and snowmen, then find gingerbread men ornaments. It just needs to be in the right shape and then you can let them decorate in glitter glue, markers, stickers, and whatever else their little hearts desire.
Not only does this allow the kids to have fun, but the adults can relax a bit while they are kept busy—a true win win!
Adults Need Fun Too
If you are planning an adult cocktail party, go for the gusto. Try a fun little "Santa's Happy Hour" theme and let the drinks start flowing. Only offer festive cocktails such as pomegranate martinis or cranberry and vodka punch.
So long as you center your adult party around the festive time of year, it will be unique and memorable. Why not incorporate a fun activity at your adult party? For example, a dress like an elf contest or even a shot luge in the shape of Santa's sleigh will be instant hits.
Unique and Fun Details
Instead of putting out a ham or some little sandwiches this year at the Christmas party, make your food really sing!
Keep with the green and red color theme as an idea. Offer up roasted red pepper hummus, green olive tapenade, green onion dip, and perhaps some cranberry relish with crackers. Everyone loves to see a theme and when you carry it out even in the color of the food that really impresses and screams that it's unique.
Set the venue with the right tone. Replace all the light bulbs in the house with green and red ones for a truly unusual setting. You can also light the bathrooms and hallways with candles for a really simple but stunning twist.
Try labeling all of the food that you place out for the guests too. This is a simple way of showing that you put some hard work into this and that you want to make this an occasion to remember.
If you put thought into your Christmas party and strive to make it something special, it is going to take on a shape all its own. Put a little extra effort into the food that you serve, the activities that you offer, and the decorating ideas. Just switching up the colors a bit can really set the tone for a memorable Christmas gathering.
This year make your party different than the rest. Simply replacing a few fundamental details can make for an awesome event that guests will be talking for months.
Shop out-of-the-ordinary stores for party supplies; places like Home Depot or Lowes might just have some creative finds and inspiration.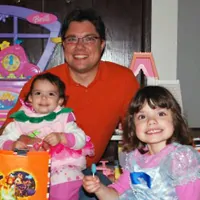 Written by Chris Molnar who is a legend in his own time with Christmas planning (after he unknots all the Christmas tree lights and breaks a couple precious ornaments). He has taken inspiration from his recent ideas for a Yo Gabba Gabba party and found that you can make any event truly unique. He is father to two and has learned that only the unique parties are the ones that people remember—even with the preschool set!