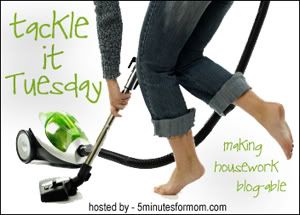 Hello ladies! It's Lisa, the Apron Queen– your resident tackler. Welcome to Tackle It Tuesday!
This weekend, my family and I tackled some long overdue yard work. You see, we live in Southeast Texas- approximately thirty miles from the Gulf of Mexico. About seven weeks ago, Hurricane Ike slammed into the Texas Gulf Coast bringing unbelievable devastation to our local beaches and coastal towns.
Thankfully, my family was spared any severe damage to our home itself. But, Hurricane Ike was not kind to our trees.
Come to think of it, Hurricane Ike was not kind to our fence either. Or our backyard shed. Oh, the adventures of Hurricane Ike. What fun and excitement we've had.
We've been stacking up all the storm debris into brush piles for several weeks now. The wood was wet and green though. So, we've been letting it dry out in anticipation of a big backyard bonfire. The kids have been asking every weekend, Is the wood dry yet? Can we have a fire yet?
This weekend, we decided that it was finally dry enough to burn. So, my husband got out the chainsaw and cut the fallen trees into fire logs. I did my part by standing around and taking pictures. It was very hard work. 🙂
We finally had the bonfire we'd all been waiting for. There's nothing better than a crackling fire on a crisp autumn night. It was well worth the wait.
We even cranked up the radio with the likes of Willie Nelson, Johnny Cash and Hank Williams. Somehow, it just seemed fitting to listen to the country legends while sitting around the campfire.
No sense letting a good fire go to waste either. Time for roasting weiners and enjoying big soup mugs full of homemade chili. The fire was perfect for toasting marshmallows and making S'mores too.
We even brought out the old sandwich-making irons and made campfire sandwiches. They're sort of like homemade Hot Pockets and are lots of fun to make.
Well, our backyard is slowy returning to the way it was before the hurricane. We still have a laundry list of tackles yet to be completed.
But, this was definitely a fun way to tackle some of our hurricane clean-up. I only wish all of our tackles included this much fun.
Join Us For Tackle It Tuesday

We're making housework blog-able!

Each week on Tuesday, we are posting before and after pictures of a project or trouble area that we tackled this week.
Hey tacklers!
Tackle your fall cleaning and holiday festivities in style with Jessie Steele vintage-inspired aprons from Rick Rack Attack.
 
Rick Rack Attack is a member of our Mom-Owned Store directory and is sponsoring today's tackle.
If you tackled

a project

this week, just add a comment and add your link below.

Happy tackling ladies…