This post may contain affiliate links. Read my disclosure policy here.
I have those "areas" — you know those places where fat collects, such as just below my belly button where a bunch of my fat cells like to get together and mingle.
And the problem is, while through diet and exercise I have achieved a healthy weight and what I want for the majority of my body, these trouble spots remain. They are stubborn and resist all my efforts!

So, I was more than excited to learn about CoolSculpting® by ZELTIQ — a safe, effective and non-invasive way to reduce fat by cooling and destroying fat cells in common trouble areas that tend to be diet and exercise resistant.
It sounds incredible I know! But researchers at the Wellman Center for Photomedicine at Massachusetts General Hospital in Boston, a teaching affiliate of Harvard Medical School, developed the patented technology behind CoolSculpting and it is safe and FDA approved.
"CoolSculpting® is the coolest, most innovative, non-invasive and natural way to quickly lose those annoying bumps and bulges of stubborn fat.

Here's the skinny: developed by Harvard scientists, our unique, patented, clinically proven procedure involves freezing fat cells without damage to your skin. There's no knife. No suction hoses. No needles. No lasers, even. After your treatment, you get on with your busy day. How cool is that?"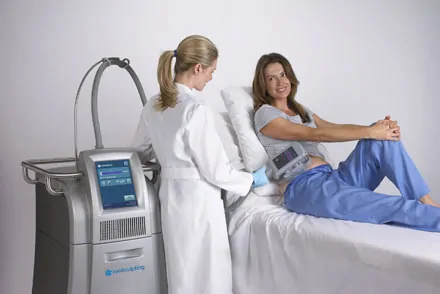 The procedure can be done in a couple of hours and you can be back to work or play immediately afterwords. The company says that the results look natural and can be seen as early as three weeks following treatment, with the most dramatic results after two months.
I am SO excited about CoolSculpting, I have agreed to test it out myself to let you all know how it goes. I haven't had my consultation yet. But, if I am a candidate, I will be having the procedure soon and be reporting to you my experience and results.
Win a Trip for Two to Miami AND a CoolSculpting Treatment!
You can enter to win a trip for two to Miami where you will be able to receive a CoolSculpting by ZELTIQ treatment!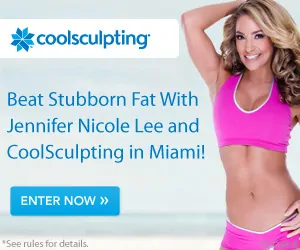 Head over to the CoolSculpting Facebook Page to enter to win!
Grand Prize
Trip for two to Miami for you and a friend to meet and train with Jennifer Nicole Lee and receive CoolSculpting treatment from a top Miami doctor.
2nd Prize
Jennifer Nicole Lee Gift Pack (Female runner up)
– Fit Moms DVD Set
– Autographed Books
– Fitness/Bikini Model Program
– Get Fit w/JNL 4-week Program
Men's Fitness Gift Pack (Male runner up)
– 2 year subscription to Men's Fitness Magazine
– 1 year membership to a local gym
Eligibility
Only persons who are at least 18 years of age can enter.
Sweepstakes Starts
October 07, 2011 @ 11:00 am (PDT)
Sweepstakes Ends
December 17, 2011 @ 11:59 pm (PST)
Need more Details?
You can find the Official Rules at the CoolSculpting Facebook Page
*Disclaimer: CoolSculpting is not intended as a weight-reduction program or for overweight individuals. The grand prize winner must first be assessed by a CoolSculpting provider of ZELTIQ's choosing to ensure he/she is a good candidate for the procedure. If the grand prize winner is not assessed as a good candidate, he/she will not be eligible for the treatment portion of the grand prize. The best CoolSculpting candidates are near their ideal body weight with bulges of diet- and exercise-resistant fat.
Please Note: This post is part of a sponsored campaign with CoolSculpting. As always, our opinions are 100% our own.
Written by Janice Croze, co-founder of 5 Minutes for Mom.
Wanna chat? Find me at: @5minutesformom, @janicecroze and Facebook.com/5minutesformom.