This post may contain affiliate links. Read my disclosure policy here.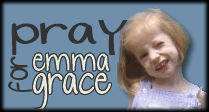 *** UPDATED ***
There is a precious little girl named Emma Grace who desperately needs your prayers!
I'm not sure if you've met Emma — she's the miracle 5 year old daughter of Heather from My Midlife Moments.
"Emma Grace was born in 2001. In utero she was diagnosed with Heart Failure, and at 5 months of age received a heart transplant. In 2003 she was diagnosed with a rare disorder known as Mitochondrial Myopathy, which impacts her daily life in many ways. In 2006 she was diagnosed with Autism. She loves Barney and Carebears, but most of all she loves life!"
Heather called me tonight to tell me that her dear little Emma is very sick and is again in the hospital. She is currently being flown from their local hospital to a children's transplant hospital and will be placed in their ICU.
Although her lab results look normal, her heart rate and respiratory rates are high. She has a fever of 102.5 and all afternoon she's been crying and holding her chest.
Heather is of course very worried and asks everyone to please pray.
Emma's life radiates the power of prayer. She continually pushes through each health crisis and lives a life of joy.
She is a miracle that blesses every life she touches.
Please pray for this precious little child. And also please pray for her exhausted and very worried mother and family.
*** UPDATE ***
Heather was able to post an update about Emma's condition on her blog. Thankfully, Emma has perked up a bit, but is still in the ICU.