This post may contain affiliate links. Read my disclosure policy here.
After sleeping in this morning, (thanks hubby!!!) I grabbed my camera card and started downloading. As mom bloggers, doesn't it just go with the territory to post pictures of our kids all costumed up?
I made sure to have a photo session with the girls before Halloween, so I could get some good shots when it wasn't dark and raining. I absolutely LOVE the shots I got. I posted them on Friday – if you missed them, here is the link. They are just sooo cute and cuddly. (Jackson skipped that photo session – so it is just the girls.)
But of course, I needed to bring the camera for the big event too!
Halloween started in the rain, but just as we headed out to trick or treat, the rain slowed to a drizzle and eventually stopped. What a relief!
We had a fantastic evening!
Jackson decided to be Darth Vader at the last minute — he had the costume in his costume collection from a previous year. He dressed as a skeleton for school yesterday, but wanted to take a light saber trick or treating.
We all started out together — Julia and Sophia, Jackson and Olivia, and our friend Julie's daughter, Madison. But I had to quickly leave them to follow Jackson and Olivia as they raced off with the big kids.
My kids have staying power. They would have trick or treated all night long. Susan and Julie were back in the house eating candy just 30 minutes into their adventure. Madison and Julia were far more interested in eating the candy they had, rather then getting more.
But Jackson, Olivia and I were out for almost two hours! Apparently Olivia is all grown up — going to the door by herself, choosing her candy and having a blast with kids three or four times her size.
Olivia had never tasted candy before, but since she was chewing her way through a Smartie boxes, (Smarties are a Canadian version of M&Ms,) I started to feed her candy instead.
Once those chocolate filled, sugar coated treasures hit her tongue, she was hooked. "Going to strangers' doors and choosing more boxes full of this yummy stuff??? Yes, Mommy – I can do this!!!"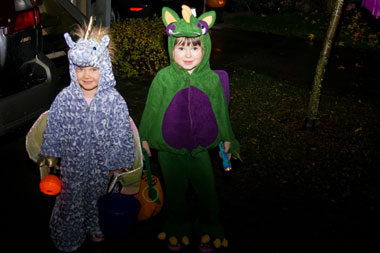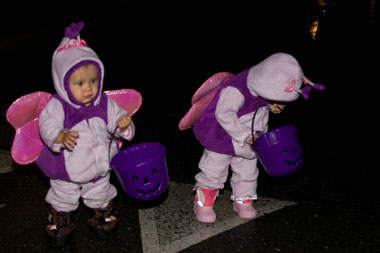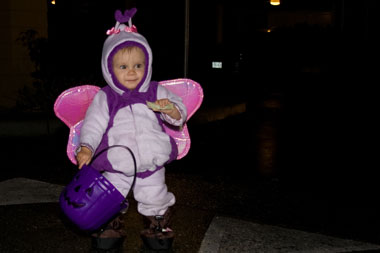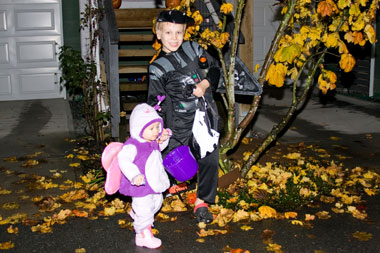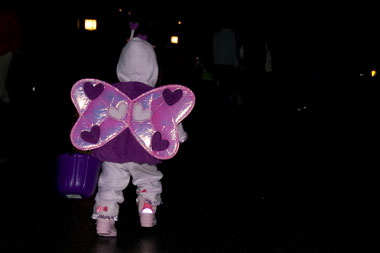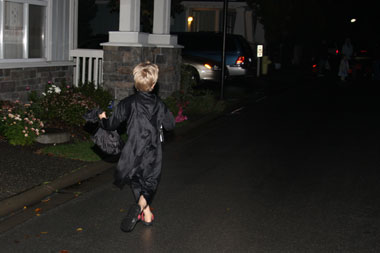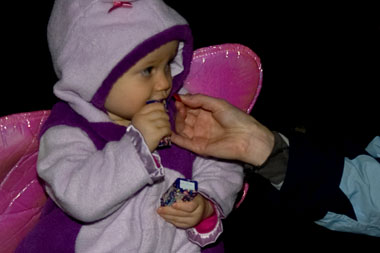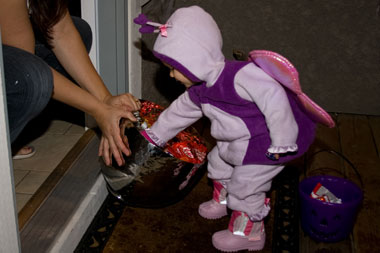 Did you post about Halloween on your blog?
Link up here and let your readers know they can find more Halloween posts here. Then head out and visit other Halloween posts and make some new bloggy friends!
I can't wait to see your kids' costumes and read about your Halloween adventures…
Add Your Halloween Photo Post Link Here