This post may contain affiliate links. Read my disclosure policy here.

Iris from Sting My Heart wrote me this afternoon to check if our tackle projects need to be cleaning jobs. So I thought I would let you all know, "No, your tackles do not have to involve cleaning."
Your tackle can be anything that needs tackling in your life. Be as creative as you want.
So funny you should ask that today Iris, because my tackle this week is a little outside of the box.
Project to Tackle: Van Upkeep

I have mentioned more than a few times that I tend to procrastinate – a lot! Hence the reason I started Tackle It Tuesday – I need some accountability and motivation to get moving on those projects that I just never seem to get done.
Well, if you had been within a block of my van each morning as I started it up, you would have heard evidence that some things still are not getting done.
Now in my defense, when I took my van in a few months ago for servicing, I mentioned to them that I thought my fan belt needed attention since I hear a horrible whirring noise for the first few blocks of my drive. But of course they never heard it and so they handed my van back to me unfixed.
Did you notice I said a few months ago? Yes, it has been getting louder and more embarrassing each passing week. Last week I could bear it no longer. I phoned the dealership, explained the problem and made an appointment. Well, actually Susan did it when she heard the screeching as I pulled away with her precious daughter strapped in to this death trap. But I did ask her to call and gave her the name of the dealership to look up the phone number. So, I was somewhat involved. (Hey this is her blog too–she should have to contribute a bit to these tackles.)
But apparently the people at the dealership don't understand what a big deal it is for a stressed out, over-scheduled, suburban mom to get their van half-way across town, because at the appointment they told us they needed to hear it when it started up cold for the day. Yes I know – I tried explaining that to you over the phone! (I had phoned back later to reschedule and had clarified the problem to them.) And I had to bring it back on Monday and leave it overnight.
Now I wasn't surprised – I knew the engine screamed loudest first thing in the morning (don't we all!) But really, do they know how hard this is for a procrastinating woman to do – twice!?!
But ladies we did it (with the help of hubby to drop off and mom for lending me her vehicle tomorrow to get around while the mechanic hopefully fixes whatever problem is making my van so angry.) And just to show you all what a good sport I am – I even tackled the mess that had been slowly building up in my van since my interior van tackle in June.
This is what I cleared out of my van.
What Came Out Of Our Van: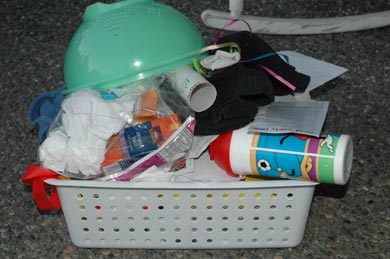 And this is what is going back in. (Jackson's toy box and change of clean clothes is still in the van. I was pressed for time as I grabbed out items in the dealership parking lot. But his items are somewhat contained in his box.)
What's Going Back In Our Van: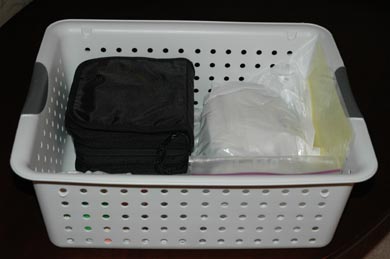 Note:
You wouldn't believe the huge attachment issues my son has to our van.
He was absolutely inconsolable that he had to leave it overnight. He cried and cried, insisting, "I will wait from sun down to sun up on that rock right there."
After we made him get in the truck to come home, he whimpered and whined the whole way. Good grief. Who knew getting a van fixed would be so hard on us all! Let's just hope this time when we get it back it is fixed.
Join Us For Tackle It Tuesday

We're making housework blog-able!

Each week on Tuesday, we are posting before and after pictures of a project or trouble area that we tackled this week.

Find out more about Tackle It Tuesday here.

The project can be little or big – whatever you want. Basically, Tackle It Tuesday is about giving ourselves incentive, deadlines and satisfaction in getting our household tasks done.