This post may contain affiliate links. Read my disclosure policy here.
Next week,  Black Friday will be here. How do you intend on shopping this year? I don't know about you, but stampedes, long lines, and cold weather do not appeal to me at all! What does appeal to me is my warm cup of coffee, fuzzy slippers, my laptop and Amazon.com.
I have a shopping list a mile long and Amazon is going to help me fill that-for both of my game loving kids! I intend to do as much shopping as I can using the Countdown to Black Friday Sales going on at Amazon!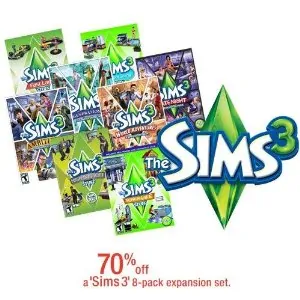 My daughter is a huge Sims player, so when I saw this deal on The Sims 3 Expansion Collection for PC, I knew this was going to be a gift that would wind up under my tree. My daughter is going to be SO thrilled! If you have a MAC, Amazon has a pack for that too!
If you have a gamer in your home, and I am sure you do, you will want to check out all these fabulous Black Friday Game Bundles. Even I am a gamer. I love Luxor . One of my favorites!
Save $5 on each bundle!
The awesome thing about these gaming bundles is that Amazon is offering a $5 credit toward an additional bundle after the first initial purchase. Just purchase any bundle from the Black Friday Gaming Bundles list, and you will earn $5 to use on another bundle from this set. Simply purchase a qualifying bundle and once your order completes you will receive an email notifying you that your promotional credit is ready for use. Visit this page again, purchase another bundle, and the discount will be automatically applied. You can do this on every bundle you purchase!
The Black Friday Countdown sale for the gaming bundles will be going on through November 19th, so hurry before these awesome deals expire!
Save on the hottest Game Downloads of 2011!
You can save an additional $5 to $25 on the  hottest gaming downloads of 2011 when you purchase certain gaming gear as well. My son is a big Modern Warfare and Call of Duty player, so he is going to love this gift.
So what are you waiting for? Shop Amazon this year for your family members. Those games will definitely love you for it!
Written by 5 Minutes for Mom Advertising and Communications contact, Jennifer. You can find me blogging at For Such a Time as This and tweeting at @jennifer_sikora.
Disclosure: This post is part of a partnership with Amazon.com. All opinions are my own.