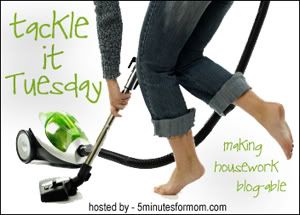 Hello ladies! It's Lisa, the Apron Queen– your resident tackler. Welcome to Tackle It Tuesday!  
Thanks so much to everyone who participated last week in our CLR Bath & Kitchen Tackle It Tuesday .
We had over 100 bloggers participate! And nearly 50 more of you tackled a non-CLR project. I just have to say You guys ROCK!  What fabulous tackles everyone had.
So, I bet you're wondering who won the three $100 prize packages from CLR.
We chose the winners randomly, using Random.org. The winners are…
If you are a winner, please email us at info(at)5minutesformom(dot)com with your shipping information. Congratulations!
A big THANK YOU! also goes out to CLR for sponsoring this fun tackle and giveaway and to all of YOU for participating. 🙂
Well, I am doing a bit of my own tackling over at Confessions of an Apron Queen.
If you'd like to see me cooking up a quick, easy and delicious dinner for the Velveeta Casserole Challenge (and see me doing The Chicken Dance in my kitchen!), stop on by.
I'll also be sponsoring lots of fun apron giveaways this week to encourage everyone to vote for my casserole on Thursday, October 30th. Don't miss out!

Now, on with our guest tackler of the week.
5 Minutes for Mom's very own Janice – the creator of Tackle It Tuesday – is tackling a fun project with her son Jackson this week.
Hi Ladies!
I missed you already! I just had to drop in for a "guest tackle" today.
"Tackling" is so in my blood after two years of Tackle It Tuesday, that whenever I do a project around the house my first thought is, "This would make a great tackle post!"
So, the other night, when Jackson and I tackled making something for the bake sale at school, I couldn't resist grabbing the camera and recording the fun to share in a TT post.
At the previous bake sale, someone had been selling popcorn stuffed in surgical gloves. (Or some sort of "hands" as Jackson described it to me.) By the time Jackson got to the front of the line, this hot item was sold out. So of course, he wanted to make some when it was his class's turn to provide the bake sale items.
I didn't have any "hands" on hand, pardon the pun, so I suggested we make up little cellophane balls of popcorn. (Yes, I could have put them in ziploc baggies, but I thought we could fancy them up a bit.)
Jackson and I tackled after Olivia had gone to bed, so Jackson was already in his pajamas.
Of course, Jackson tried to eat as much of the popcorn as he could.
But we still had some popcorn left for the bake sale!
Jackson and I had a ton of fun together – and he got to stay up past his bedtime.
The next day, I volunteered at the school helping with the sale. I had a blast trying to manage the rush of kids attacking the bake sale table at recess and lunch.
And Jackson took full advantage of "working" at the table with me. I had a quite a "tab" to pay at the end. I think he ate about five or more treats!
It was definitely a fun and tasty tackle! 🙂
Join Us For Tackle It Tuesday

We're making housework blog-able!

Each week on Tuesday, we are posting before and after pictures of a project or trouble area that we tackled this week.
If you tackled

a project

this week, just add a comment and add your link below.

Happy tackling ladies…