This post may contain affiliate links. Read my disclosure policy here.
Jackson and I had a fun time making popcorn balls for his bake sale at school.
At the previous bake sale, someone had been selling popcorn stuffed in surgical gloves. (Or some sort of "hands" as Jackson described it to me.) By the time Jackson got to the front of the line, this hot item was sold out. So of course, he wanted to make some when it was his class's turn to provide the bake sale items.
I didn't have any "hands" on hand, pardon the pun, so I suggested we make up little cellophane balls of popcorn. (Yes, I could have put them in ziploc baggies, but I thought we could fancy them up a bit.)
Jackson and I tackled after Olivia had gone to bed, so Jackson was already in his pajamas.
Of course, Jackson tried to eat as much of the popcorn as he could.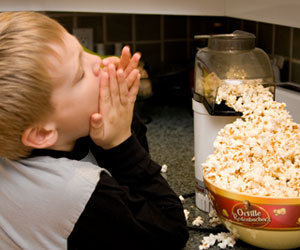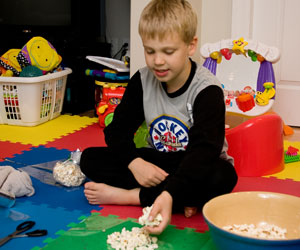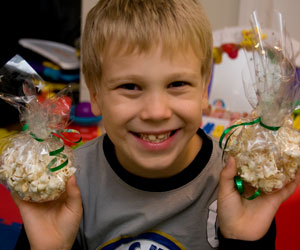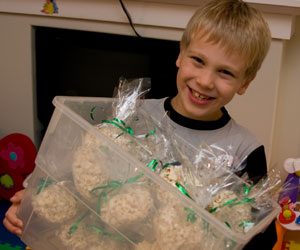 But we still had some popcorn left for the bake sale!
Jackson and I had a ton of fun together – and he got to stay up past his bedtime.
The next day, I volunteered at the school helping with the sale. I had a blast trying to manage the rush of kids attacking the bake sale table at recess and lunch.
And Jackson took full advantage of "working" at the table with me. I had a quite a "tab" to pay at the end. I think he ate about five or more treats!