This post may contain affiliate links. Read my disclosure policy here.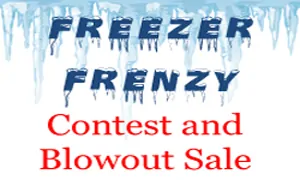 We just had to take a moment out of our busy schedule to share this awesome giveaway with you that ends on November 2nd!
Leanne Ely, New York Times best selling author and the owner of SavingDinner.com, a menu planning website, helps thousands of families get on track with getting dinner on the table each and every night.
About Savingdinner.com
Their Freezer Meal Plans–affectionately called 5 for the Freezer, 10 for the Freezer and 20 for the Freezer are DIY versions of the meal assembly places that were so big a few years ago (Super Suppers, Dream Dinners, etc) but they use better quality ingredients and keep you home to do it.
The beauty of their plans is that they break down each "session" (you do one meat, fish or poultry at a time to avoid cross
contamination) with all the prep done at one time. Each recipe is assembled with instructions on how to freeze, thaw and cook up fresh when you're ready for your meal. This is quality fresh food; not reheated style TV dinners!
Giveaways of all giveaways!
Check out what Leanne says on Savingdinner.com:
It's our biannual Super "Freezer Frenzy" Blowout Sale on all of our popular "save you in a crunch" freezer menus, and… this time we wanted to top ourselves by doing something really exciting and I know you're going to LOVE this…

We're giving away a brand new Upright Freezer to each of 3 lucky winners!

BUT THAT'S NOT ALL… (you knew I was going to say it, didn't you?)

To our Second and Grand Prize Winners, we're also giving away $250 and $500 Gift Cards to Omaha Steaks, the online source for steaks, lobster and all kinds of outrageously decadent gourmet food.

And last but not least, our Grand Prize Winner also wins a personal visit from me! I'll travel to your house with a film crew and we'll prepare your freezer menus together! How FUN is that?!

Click here to learn more and get entered into our Freezer Frenzy Contest right now!
Be sure and stop by their website to enter this wonderful giveaway!
This was a paid promotion from Savingdinner.com.