This post may contain affiliate links. Read my disclosure policy here.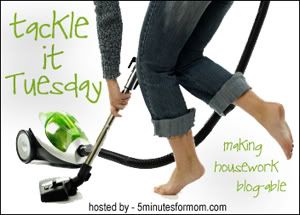 Hello ladies! It's Lisa, the Apron Queen– your resident tackler. Welcome to the CLR Tackle It Tuesday!
Tackle your housework with CLR Bath & Kitchen Cleaner today and you'll be entered to win one of the three prize packs, which each includes $100, from CLR! (For more details about today's contest, you can revisit our post, Tackle To Win???.)
I even tied my apron on and tackled my own bathroom with CLR! Now, the directions on the bottle state Wear household rubber gloves. So, I picked up a pair at the store and I just have to share a photo of them with you.
Are those gloves just the best, or what?! Hot pink kitchen gloves with an enormous cuff decorated in huge pink polka dots!
I'll tell you a little secret. Houswework is a little bit funner when you're wearing hot pink kitchen gloves! And wearing a pink polka dot apron to boot too!
Seriously, I need to make housework as much fun as I can. Because I've got some major issues to tackle in my bathroom. Take a look at this actual untouched photograph of my poor bathtub…
I apologize if I scared anyone. I know it's not even Halloween yet!
I'm actually a bit embarassed to have to show it to ya'll. But, I'm trying to keep it real and honest.
Obviously, my bathtub has not had a good scrubbing for quite some time. While I'm not having too much trouble with calcium, lime or hard water- as you can see, there is some serious soap scum and dirt build up.
CLR Bath & Kitchen to the rescue…
I gave my bathtub a decent scrub with CLR Bath & Kitchen.
Then, I stood back and had a good look at it. And I decided that it looked 10x better than before.
But, it still wasn't quite clean. So, I read the directions a little closer. And I realized I was supposed to let the CLR soak in for 2-3 minutes.
Oops! Let's give that another try…
Ta Da! Much better!
I am very pleased with the results from CLR. In fact, I thought no one else would notice.
But, are you ready for this? My husband noticed. Immediately!
That is some serious and powerful stuff if my husband walks in the bathroom and says "Wow. What did you do to the bath tub?"
Thanks CLR Bath & Kitchen!
What did you tackle this week? Link up and let us know!
All bloggers who posts their opinions (and have included the permalink in the CLR Tackle It Tuesday Mr. Linky by the Wednesday, October 22 at 11:59pm Eastern) will be entered to win one of the three Prize Packs, which each include $100.00, from CLR.
We will announce the winners October 23rd, 2008.
Join Us For Tackle It Tuesday

We're making housework blog-able!

Each week on Tuesday, we are posting before and after pictures of a project or trouble area that we tackled this week.

Find out more about Tackle It Tuesday here.


The project can be little or big – whatever you want. Basically, Tackle It Tuesday is about giving ourselves incentive, deadlines and satisfaction in getting our household tasks done.

(It doesn't even have to be housework… just whatever is on your To Do list.)
If you tackled a project with CLR this week, just add a comment and add your link below.
If you tackled a project (not with CLR) this week, just add a comment and add your link below.
Happy tackling ladies…