This post may contain affiliate links. Read my disclosure policy here.
Our blogging friend Tonya Staab, mother of 5 year old twins and a teen and owner of the blog Create-Celebrate-Explore shows us how she created an art and homework area for her kids.
Moving to a new house
We moved house over the summer. Our garage is still full of unpacked boxes consisting mainly of the kids 'stuff'. We haven't unpacked a lot of the twins' toys, mainly because there has been nowhere to store it. The family room is now their play room, and although it's a large space, there's absolutely no storage in there. They began kindergarten this fall and were in need of an area for homework and being creative so this week I pulled out my husband's tools and set to work.
My project began a little like this: An almost empty corner of the room that contained a table which the kids had painted over and that had a few cracks in it, and a thrift shop find wooden box.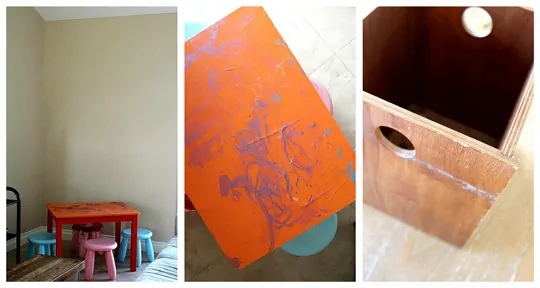 Step 1. Sand the table and wooden box.
Step 2. Apply a sealant and paint the table top with Martha Stewart chalkboard paint – this took 4 hours and 4 coats.
Step 3. Apply a sealant and paint the wooden box in a sky blue.
Step 4. Hang a rail, attach hooks, and hang buckets for art supplies.
Step 5. Use the old artwork hanging system (from our previous house) to display the kids artwork and screw it into the wall.
Step 6. Attach a container to the wall that the kids could keep their monthly homework packets as well as their supplies in.
Step 7. Assemble shelving to store other 'educational' type items such as magnifying glasses, stamps, notebooks, their flower press, and activity kits.

The result: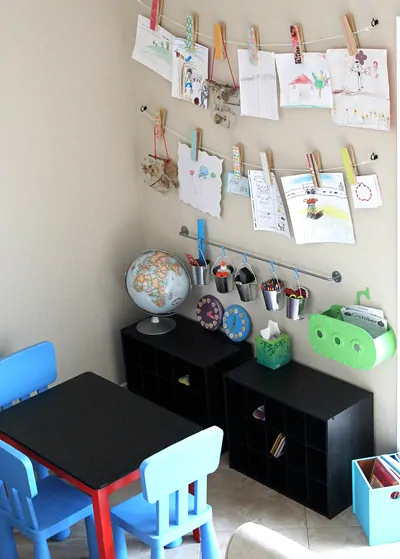 There is still a little work that needs to be done. The shelves need to be filled with their craft and educational supplies and I need to hang art on the other wall too, but I'm thrilled with the results and so are they.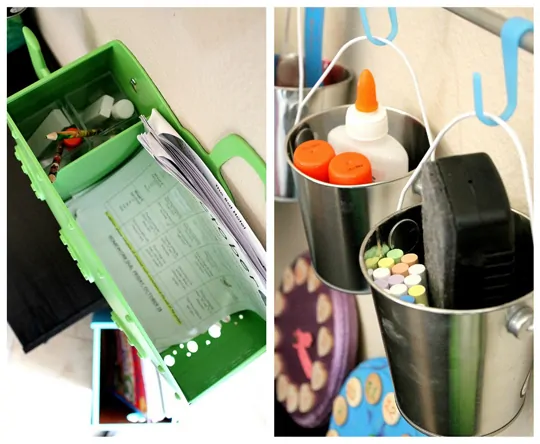 For now, they have buckets filled with art and craft supplies, the blue wooden box contains their worksheets and coloring books, and the green submarine houses their homework and a small tub for each of them with a pencil, eraser and glue stick – I will be adding a ruler, sharpener and scissors to these too.
Want to know where I found items to make over this space?
Project supplies used:
The black shelving units were on-sale for $24.99 each at Target.
The silver buckets were purchased for the twins birthday party for $1 each from Target.
The silver rail and blue hooks were purchased at Ikea – the rail $2.99 and the hooks 99c.
The blue wooden bin was a thrift shop find for $2.99.
The green submarine was purchased at Target for $17.99.

Written by Tonya Staab, the creative mind behind Create-Celebrate-Explore, where you will find craft tutorials, recipes, party planning and travel tips.