This post may contain affiliate links. Read my disclosure policy here.
It's that time of year again….Time to start gathering pictures for my traditional end-of-year photo books.

How in the world did it become the end of the year??
When my kids were little, I was an avid scrapbooker. After my 4th daughter was born in 2003, I made the transition to digital, and soon came to prefer making digital photobooks as well.
A few years ago, after I noticed how much my mom and mother in law loved looking through my yearly photobooks, it dawned on me….why not make three copies of my photo book (one for me, one for my mom, and one for my mother in law)?

It proved to be the perfect gift.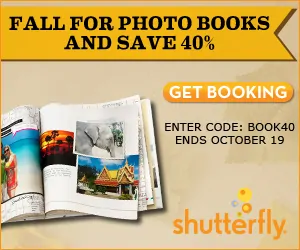 Today through Wednesday, you can take 40% off all photobooks from Shutterfly.com! Offer valid with promo code BOOK40 until 10-19-2011.
I'm going to be getting a head-start on my holiday shopping today (with a little treat in there for myself. I LOVE looking back on my year, how much my kids have grown, and everything my kids and I have done together!).
My only question is….what are YOU going to include in your photo book?
Note: We are Shutterfly.com affiliates (ie – if you purchase a photobook in the next 3 days using our links, you'll be helping out 5 Minutes for Mom. Now, doesn't that make you feel good?)
Written by 5 Minutes for Mom managing editor, Lolli. You can find me blogging at Better in Bulk and tweeting at @1momof5.