This post may contain affiliate links. Read my disclosure policy here.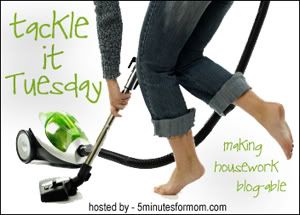 Hello ladies! It's Lisa, your resident tackler! We have a guest tackler this week, but I'm still doing some tackling of my own over at my blog.
 I was selected by Kraft to participate in the fun and exciting Velveeta Casserole Challenge along with four other bloggers.
There will be some great giveaways related to this challenge over the next few weeks- aprons, Amazon gift cards, grocery gift cards and more. So pop on over to Confessions of an Apron Queen for a look.
Now, on with our guest tackler from Susie's Homemade. Susie is a thriving stay-at-home mom of two wonderful girls (4 and 17) and the caretaker of her 65 year old live-in mother. She is also the owner and operator of Susie's Homemade Chocolate Shop on Etsy. I think I'm going to try her peanut butter chip cookie dough dipped in chocolate. Yum!
Susie is tackling a special project this week. Susie's little one is having eye surgery today. Here's her Super Girl waiting on her Super Vision. Please drop by and wish her well.
Susie also shared with me her biggest tackle of the year- remodeling her bathroom. Here's the teardown.
She declared herself "The Spackle Queen of the Midwest"! And here's the finished product. 
Great tackle Susie! You can come by my house with your spackle anytime! Ladies, don't forget… if you'd like to be a Guest Tackler, e-mail me at TackleItTuesday@gmail.com
Also, don't forget about next week's CLR Tackle. You could win $100 by tackling your kitchen and/or bath with CLR, sharing your opinion and linking up with it for Tackle It Tuesday on October 21st. Follow this link to lear more about the CLR Tackle.
What did you tackle this week? Link up and let us know!
Join Us For Tackle It Tuesday

We're making housework blog-able!

Each week on Tuesday, we are posting before and after pictures of a project or trouble area that we tackled this week.

The project can be little or big – whatever you want. Basically, Tackle It Tuesday is about giving ourselves incentive, deadlines and satisfaction in getting our household tasks done.

(It doesn't even have to be housework… just whatever is on your To Do list.)  

 
If you tackled a project this week, just add a comment and add your link below.
Happy Tackling ladies…