This post may contain affiliate links. Read my disclosure policy here.
Are you tired of scraping goldfish cracker crumbs out of your carpet? Then the Munchie Mug might be your answer.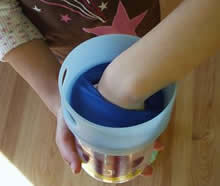 If you have snacking toddlers and preschoolers, you're all going to love this clever dad's invention — a spill resistant snack cup.
The snack cup has a soft opening that naturally stays closed at all times, until the child puts her hand in to take out a snack. It's prefect for crackers, raisins, fruit or any other small food.
Jackson and Olivia both LOVE the Munchie Mug. Watch!