This post may contain affiliate links. Read my disclosure policy here.
If your local weather isn't screaming "summer is over!" the stores sure are. Even the "Back to School" shopping is over. Now everyhere I turn, from the grocery store to the shopping mall, is deep into "Halloween".
And so understandably the big question on kids' minds as soon as the weather turns crisp is "what are they going to be for Halloween?"
So, how do you feel about Halloween?
As a Christian, I do not like the background of it. But, I also remember how much fun Halloween was as a kid. As a Christian family, my parents still allowed us to dress up and trick or treat. We just did not focus on any of the evil aspects. As mothers, Susan and I have struggled deciding what to do. Most of our Christian friends and church families are allowing their children to dress up. Last year, we went trick or treating for an hour and then went up to the church for an alternative costume fair.
So this year we will probably do the same — trick or treat for a bit (we live in a safe neighborhood and just go to our close neighbors) and then head over to our church activity.
Jackson has already chosen his costume. Since he's obsessed with Star Wars, he's dressing up as Darth Vader.
We still haven't decided on a costume for Julia. Jackson wants her to be Princess Leia
.
But there are so many adorable outfits
, I'm having a hard time choosing.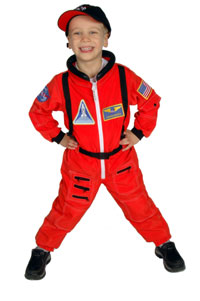 If you don't like the evil aspect of Halloween, but still want to allow your child to have fun dressing up, a great option is to dress your child in an inspiring costume like a firefighter, pilot, police officer or astronaut uniform.
Perhaps your church also has a costume evening that isn't "Halloween," but still allows kids to dress up in imaginative costumes.
If so, you might want to check out our incredible costumes. We have the most realistic, high quality kids costumes in our pedal car store. We sell them year round and Jackson loves to dress up no matter what month it is.
These costumes are wonderful for encouraging positive pretend play year round. But I must admit, I hope Jackson and Julia never actually become astronauts — it would terrify me to see them blast out of this world!
So are your kids dressing up? If so, as what? And if not, are you doing something special as an alternative?