This post may contain affiliate links. Read my disclosure policy here.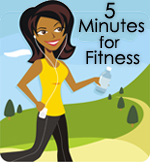 Now that my kids are old enough to take a bath together, I take full advantage of the opportunity for five minutes of fitness. While they play, splash, and squeal, I stand nearby and seize the moment to do five basic exercises.
Here are my favorites:
1. Squats: either on the wall or stand alone. I tell my kids that mommy has a pretend chair and she is practicing sitting in it. Great for your glutes (backside) and legs.
2. Push-ups: I do at least 15 of these, encouraging my oldest to count along with me. (I do my best not to notice the dirty floor.)
3. Bicep curls: I bring a pair of dumbbells into the bathroom and do 3 sets of 15 curls.
4. Tricep dips: I do at least 20 of these off the edge of the bathtub.
5. V-sit: this is a fantastic exercise for your abs and core. Ten to twenty of these and don't forget to breathe.
That is it, you are done! Your kids are clean and you are a little more fit!

This column is hosted by Lisa. She can be found doing squats and lunges over at Workout Mommy.