This post may contain affiliate links. Read my disclosure policy here.
At Olivia and Sophia's First Birthday Party, we had two "smash cakes" for the girls, in addition to a bigger cake for the guests.
But our cake maker had made a mistake and made us an 11×14 size cake for the bigger cake instead of a 9×13. Between the three cakes and our small guest lists, we had way.too.much.cake.
So when we got home and Jackson wanted a turn with a "smash cake" of his own, I happily handed over the leftover cake.
I figured letting Jackson demolish the slab of cake was a far wiser idea then harboring the temptation in my fridge. I am completely pathetic when it comes to resisting sweets, which is why I try to make sure I don't have any in my house!
I put Olivia in her high chair and placed her smash cake in front of her. (Unlike Sophia who thoroughly smashed her cake at the party, Olivia had only done minimal damage before she insisted on getting back to partying.)
After both kids were ready with their cakes, I grabbed the camera and watched the fun!
Jackson had an absolute blast! It must have been liberating to be allowed to completely attack a cake.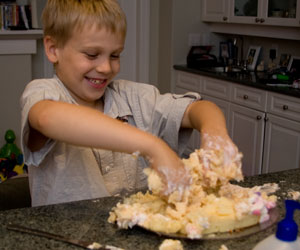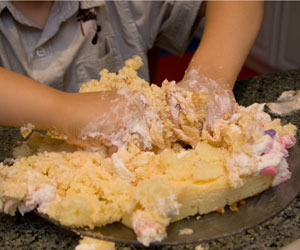 Olivia smashed too…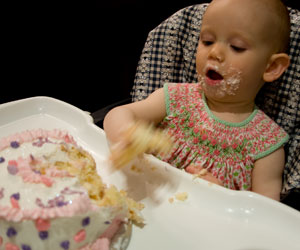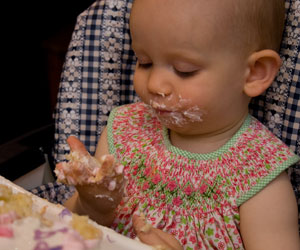 And while enjoying her cake, Olivia watched her brother as he enthusiastically destroyed his.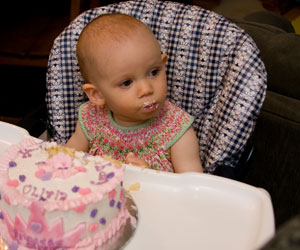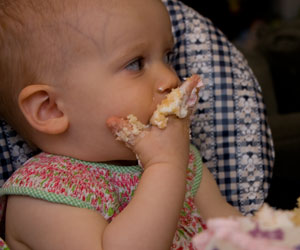 THEN, Jackson decided that he was not only going to destroy, he was going to create as well. He smooshed up his cake, added some water and then "baked" it in the microwave for two minutes. Much to my horror, he then proceeded to EAT it! GROSS!!!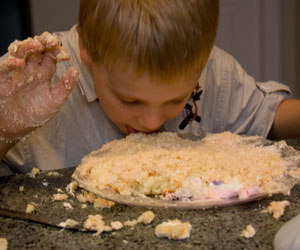 He was so wounded by my reaction though, "Mom – you really hurt my feelings! I worked really hard on my cake…" LOL Jackson cracks me up! (I only let him eat a few bites though – he had already eaten cake at the party!)
Olivia did a pretty good job "smashing" and eating…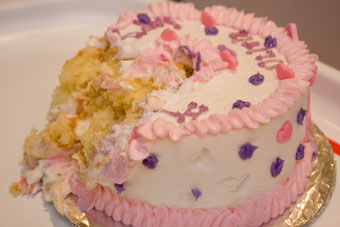 But in the end, Jackson decided he needed to help her out.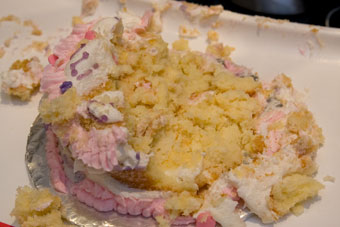 (Can I admit to you that I still ended up grabbing a fork and eating a bit of the not-as-smashed part? I told you – I am dangerous around sweets. That is why the cake needed to go!)