This post may contain affiliate links. Read my disclosure policy here.

Kari from Healed Waters wrote to us today to remind us that today is ADD Awareness Day. Visit her site for some great resources about ADD.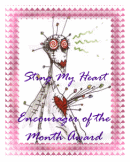 Also, I want to thank Sting My Heart for awarding me the "Sting My Heart Encourager Award" for August.
I'm so sincerely honored!!!
Sting My Heart is one of my very favorite blogs. If you're not yet a regular reader of hers, definitely check her site out now.