This post may contain affiliate links. Read my disclosure policy here.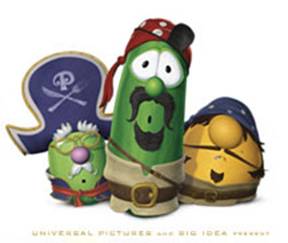 Last year, when we heard that another Veggie Tales film was going to be released on the big screen, we were excited.
We don't often go to the movie theater as a whole family because it's hard to find a movie that appeals to a ten-year-old girl and a four-year-old boy (not to mention their parents!). Cost is another factor of course, but we went ahead and shelled out the money for the whole family to see The Pirates Who Don't Do Anything in the theater.
The humor of the Veggie Tales is the kind of thing that appeals to each of us in different ways (My son was laughing about the hopping cheese curls for weeks!).
Well, now that it's being released on DVD (October 14), the whole family can enjoy it all over again.
We much prefer to watch a DVD at home for so many reasons:
Home viewing is a fraction of the cost. You can rent the DVD for far less than a single ticket, and can buy the DVD for the cost of one adult and one child ticket.
We can pause for potty breaks and not miss any of the action.
We can make our own snacks, or have a pizza party (again — much lower cost!)
We get to stay holed up in our own house, instead of getting out.
We can watch it whenever we want — not subject to theater schedules and having to schedule around naptime, bedtime and mealtime.
I have even come to prefer watching DVDs with my husband instead of venturing out to the theater, for many of the same reasons. What about you? Do you stock up on DVDs for the kids and even your own viewing?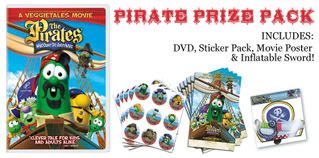 Do you have some pirate-loving kids in your home? Leave a comment here, and we'll post the winners on November 1. One grand prize winner will receive the prize pack pictured above, and four others will win the DVD The Pirates Who Don't Do Anything.
Until then, check out Veggiepirates.com for more information about the movie, including downloads and games.