This post may contain affiliate links. Read my disclosure policy here.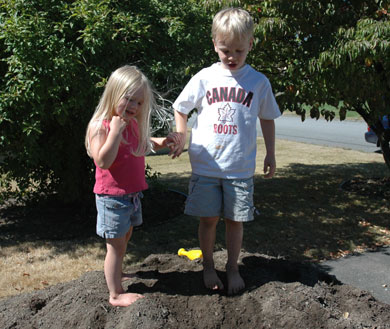 "Ok — On the count of three we jump…"
Wisely, three-year-old Sage is quite concerned with Jackson's plan. My friend Crystal and I quickly add our warnings, "No, Jackson. Sage doesn't want to."
But as soon as the words are out of our mouths, Jackson seizes the opportunity and with a firm grip on Sage's hand, he jumps.
Jackson is thrilled with their leap from the mountain of dirt, but it takes quite a bit of time to calm down a shaken up, dirt covered Sage.
Just remember Sage — boys can be trouble!