This post may contain affiliate links. Read my disclosure policy here.
I'm always on the go and I'm always running out of power… my iPhone, iPad, laptop… everything.
So I'm thrilled to now have a Rayovac Rechargeable Powerpack. In the video below I show you how simple it is to use and why I love it.
Features and Benefits: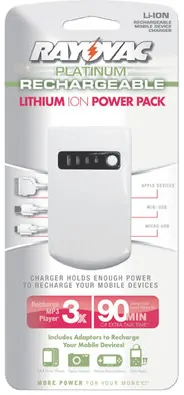 Basically, the Rayovac Rechargeable Powerpack lets you charge your smart phone, laptop and other techie gadgets while you're on the go… but if you want the full techie details, here they are:
Rechargeable Mobile Device Charger
800 MAh Lithium Ion Rechargeable Battery Charges in 3 Hours
Recharge PS60 by USB or your device wall plug
Includes adapters: Micro USB, Mini USB, and Plug for Apple Devices
Charge Cell/Smart Phone for 6 hours of Talk Time
Recharge MP3 Player and iPod Nano 3x
Compatible with cell/smart phones, digital cameras, portable gaming devices and MP3 players
LED Battery Gauge Indicators
Colored LEDs: Indicate Charging Status
Weight: About 3 1/2 ounces
Measurements: 1.75 x 4.0 x 9.0
Available at Walmart

So Ladies, I love this thing and you can tell Susan that I'm not sharing it, so she can go buy her own.
Please Note: We are Rayovac Sponsored Bloggers. Our experiences and thoughts are our own. You can find coupons and more at Rayovac's Facebook Page.
Written by Janice Croze, co-founder of 5 Minutes for Mom.
Wanna chat? Find me at: @5minutesformom, @janicecroze and Facebook.com/5minutesformom.