This post may contain affiliate links. Read my disclosure policy here.

What a Treat!
I have a tackle to show off – but I didn't do it this week! Due to all the server trouble last week, I didn't get to post my tackle – so this week, I had one ready to go. I was going to organize two cupboards to add to it, but I didn't get to it. Besides, I decided to revel in "my week off."
(By the way, last week's tackle paid off… we switched hosting companies and we now are much happier on a faster, more robust server. Yippee!
Susan had to do that tackle though… since I don't know anything about servers. Apparently it took a bit of work.)
Anyway… So pretend I slaved all day on this. (I did slave, but it was last Monday.) Oh what a treat to have a tackle already tackled!
Project to Tackle:
My Lazy Susan (No – not my twin Susan)
Before I baby-proofed my house for Jackson years ago, this Lazy Susan was very helpful. I had cereal boxes and vitamins in it and we used it daily. But when I baby-proofed, I put safer items like Tupperware, tins, etc. in it and it seemed to become a useless, messy catch all.
It got so bad the other day I could no longer fit our lunch packs in it – which is the main thing I need to use it for. So here we go…
Our Lazy Susan (and counter) Before: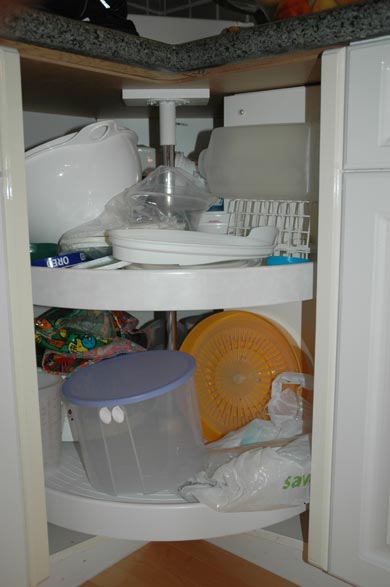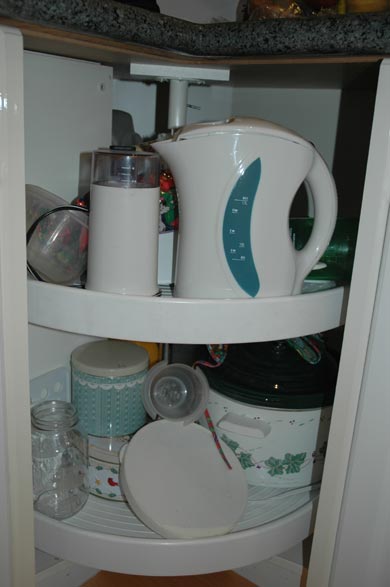 Note the lunch packs are on the counter because they cannot fit inside the Lazy Susan.
Our Lazy Susan (and Counter) After: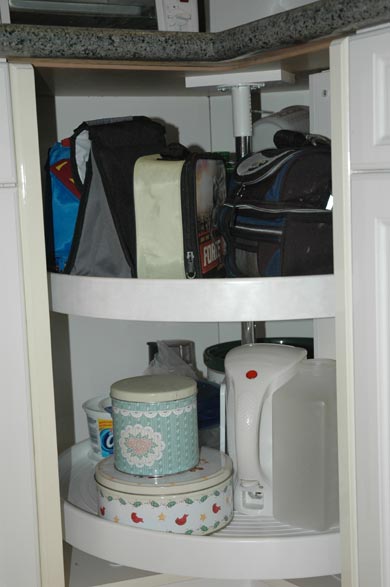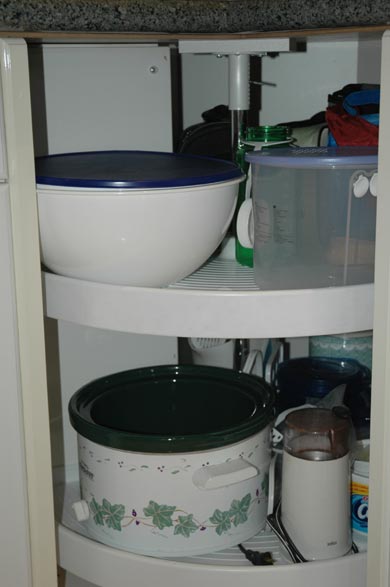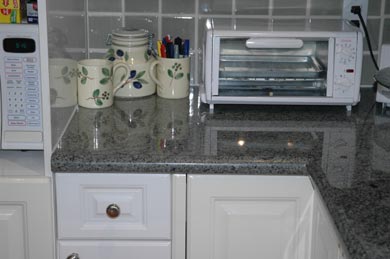 I took everything out. Washed the entire cupboard and managed to squirm a rag underneath the turning thing to collect up years of dust and fallen plastic lids. I washed all the containers and put in their proper places, recycled extras, and then organized the cupboard with the remaining items.
I love the feeling of a mess tackled. And the feeling of a week off!
Join Us For Tackle It Tuesday

We're making housework blog-able!

Each week on Tuesday, we are posting before and after pictures of a project or trouble area that we tackled this week.

Find out more about Tackle It Tuesday here.

The project can be little or big – whatever you want. Basically, Tackle It Tuesday is about giving ourselves incentive, deadlines and satisfaction in getting our household tasks done.