This post may contain affiliate links. Read my disclosure policy here.
Between raising three kids, working full time from home, buying groceries, managing the bills, carting my oldest to and from school, cooking meals, cleaning house and running many errands, I barely have any time for myself. So if anyone needs to get their glow back, it's me.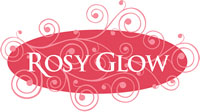 When Margo Hertzfeld offered to send me her Baby Your Face facial treatment wipes as part of her Get Your Glow Back™ line, I knew the product would be perfect for me. There are countless nights where I find myself crashing out of exhaustion, without first taking the time to wash my face.
Thanks to the Baby Your Face wipes, which I placed on my nightstand, I was able to quickly and thoroughly cleanse my face. The organic Bulgarian rosewater soothed my skin, while the slight hint of lavender helped me to relax after my busy day.
I actually looked forward to bedtime, knowing that I would get to open my lovely case of wipes and take 5 wonderfully refreshing seconds for myself.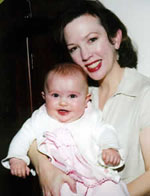 An entrepreneur, makeup artist and new mom herself, Rosy Glow founder Margo Hertzfeld was inspired to create the Rosy Glow line after the birth of her daughter in 2005. Enduring sleepless nights and focusing on a new baby first (and herself last), Margo had dark under-eye circles and dry, dehydrated lips. Unable to find the kind of easy-to-use, all-natural products she craved, she decided to develop them herself.

"Looking good is a spirit-booster for all women, but new moms rarely have the luxury of taking time for themselves." said Hertzfeld. "I developed these products to deliver immediate relief from under-eye darkness and dehydrated lips. Rosy Glow is dedicated to making new moms feel pampered and cared for…just like their babies."
Along with Baby Your Face, Rosy Glow Beauty currently offers two other individual products:
Rosy Glow Lips which naturally treat, tint and plump tired lips.
Get Your Glow Back Eyes, a soothing solution for a tired mom's dry, puffy and dark under eye area.
The products are also botanically-based and made without synthetic dyes or fragrances.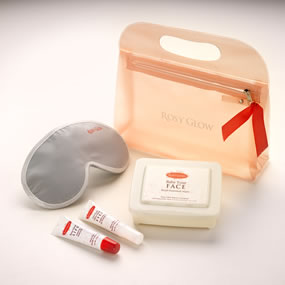 Rosy Glow Beauty also offers a Get Your Glow Back Pack, which includes all three signature products, a washable cosmetic bag and a comfy sleep mask for those times when the kiddos actually allow a moment to doze off.
And, since we know you can all use it, The Get Your Glow Back Pack can be yours, all you have to do is leave a comment below. We have one pack to give to one lucky reader. If you'd like, you can even share with us why you think you need to get your glow back.
We will draw our winner on October 25th. This contest is open to US and Canada.
Rosy Glow Beauty is offering a 10% off the total purchase discount. Enter promo code RG08TEN at checkout.