This post may contain affiliate links. Read my disclosure policy here.
Julia has been asking me for YEARS when she can have a sleepover.
Note: She asks when she can HAVE a sleepover, NOT go on a sleepover. She's not quite ready for the idea of sleeping at a friend's house yet.
But she's always begged to have a friend or her cousin Olivia sleepover.
My requirement was that she learn to sleep in her own bedroom. (We've been a cosleeping family up until a few months ago.) Well, she has done it. She's learned to sleep in her own bed and so I had to follow through with my end of the deal.
So this last weekend, we had her cousin Olivia sleepover on Saturday night. Our little sleepover party included my Julia – age 6 and my Sophia – age 3 almost 4 and Janice's Olivia – also age 3 almost 4.
They had a blast. And I had a looooong weekend.
Julia woke on Saturday morning at 6:00 am asking when Olivia could come over to start the party. For the next three hours she begged for Olivia to come over. I tried to explain that she was likely still asleep, but she was bursting with excitement.
At 9:00 am, I called Janice and told her she could drop off Olivia for the start of the great sleepover party.
Saturday 11:00 AM, I updated my Facebook profile…

It was a crazy busy and exhausting weekend for me… but Julia, Sophia and Olivia had the time of their lives.

I updated Facebook along the way…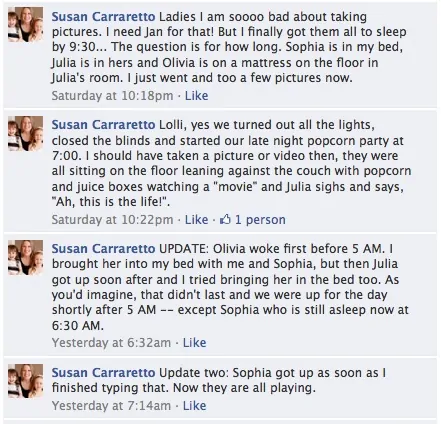 The girls played together wonderfully all weekend. They played at our house Saturday morning, then we went to Olivia's and took the dog AJ out and picked blackberries and they ran around like only children can. Sunday morning after the successful sleepover, they repeated their routine with a morning of play at our house and an afternoon/evening picking berries and chasing the dog.
And yes, I reminded Janice that she is incredibly lucky to have me as a twin sister. LOL
The only trouble is now, the girls are incessantly asking WHEN Olivia can sleepover AGAIN!