This post may contain affiliate links. Read my disclosure policy here.
A year ago today, I met you.
With cries, pushes and a lifetime of prayers, you finally made it into my arms.
But oh sweet girl – in those last few moments before I heard your precious cries, I thought it would never happen. I felt like I would never be strong enough to make it through the agony. I was sure I couldn't find it in me to push even one more time.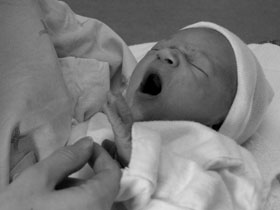 I screamed, begged, and then miraculously the pain ended and you began.
And from that moment, you have been the answer I prayed for. You are a living dream.
I wish I could live this past year over and over again, never forgetting one moment of you. You are as delicious and perfect as life can be.
And yet as much as I want to relive your short past, I can't wait to watch you grow and discover who you are.
My beloved baby girl, I wish you Happy Birthday.