This post may contain affiliate links. Read my disclosure policy here.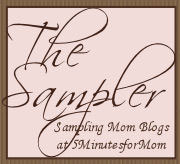 5 Minutes for Mom brings you exclusive samplings from the best mom blogs in our weekly column, The Sampler, hosted by 5 Minutes for Mom contributing editor Shera, from A Frog In My Soup.
Today we are featuring a post written for us by Monica, who is new to the blogosphere. Her posts range from exercise and losing weight to recipes and well being. Be sure to visit her blog, Enjoying a Healthy and Balanced Life for informative and straight to the point posts.
Time Doesn't Have to Go By So Fast
Life goes by at the speed of light doesn't it? The speed of light can be slowed one day at a time.
I'm learning how to enjoy my 7 year old when he has good days, and more importantly when he has bad days.
My son is a "social butterfly" so often I have to deal with behavior issues in the classroom. This is tricky since I'm not there to see what's happening. I have to make sense of what the teacher says combined with what he says. When a contradiction comes up, I always go with the teacher's point of view.
I am in the process of overcoming:
1) Expecting him to be perfect. I expect to be perfect also. I'm working on this. It is a journey and some of it has been uphill. But the destination (although I don't have a full view) is absolutely amazing.
2) Forgetting what it is like to be faced with something so funny that the laughter can't be stopped no matter how hard you try.
3) Not remembering what it is like to be full of energy and desperately wanting to share a thought with someone.
Certainly a child has to have consequences. I am not his friend, I'm his mother. Do I need to be angry with him though? Do we really need to be on opposite sides?
I'm striving to learn from the mistakes I made last year. I want to be more understanding and remember what it was like to be a child.
Tell me, do you have the same struggles?
Written by Monica of Enjoying A Healthy and Balanced Life.
If you would like to be considered for The Sampler please review The Sampler Guidelines.
This column is Hosted by Shera. She can be found at A Frog In My Soup