This post may contain affiliate links. Read my disclosure policy here.
In June, after nearly 17 years of marriage, I finally convinced my husband that we should get a wii. It was the perfect early summer purchase, especially for a family with no other gaming system.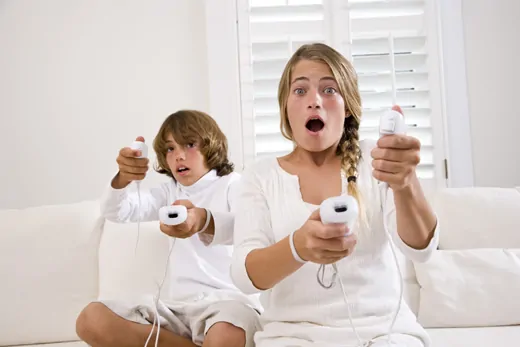 The wii was instrumental in keeping 5 kids entertained during a few camp-free months and record high temperatures when not even my 6 year old wanted to play outside.
Within 2 months, our once game-less family suddenly has a growing shelf full of video games. I love it, but because I have been so out of the game-loop, I have no idea what games are good for my kids and their age levels, and what games are family-friendly enough for everyone to play together.
I realized pretty quickly that I needed some guidance.
Game Hub – the family's guide to gaming

I am excited to introduce Game Hub, which I have already taken advantage of.
Game Hub by Sam's Club®, brought to you by AXE, is the family's guide to gaming made simple. Game Hub features the latest in family friendly video games and consoles available to Sam's Club® members.
The site also features a "guide to gaming" educational tool that explains concepts such as rating systems, technology, and industry terms in an easy-to-understand, video format, empowering Sam's Club® members to make better decisions for their families.
Now everyone can "get" games with Game Hub by Sam's Club®.

How do you find out about games? Have you GOT games that you just don't "get?"

What are some of your family's favorite games (maybe we'll have to check them out!)?
Connect with Game Hub
Sam's Club® Game Hub online: samsclub.com/gamehub
Game Hub on Twitter: @gamehubhq
Written by 5 Minutes for Mom managing editor Lolli. You can find Lolli blogging at Better in Bulk and tweeting at @1momof5.
Disclosure: This post was sponsored by Sam's Club® Game Hub. As always, thoughts, opinions, and gaming habits are our own.