This post may contain affiliate links. Read my disclosure policy here.
Hello Tacklers!
It is me – Janice with another tackle.
As usual, there are countless areas of my house that need to be tackled. I should have chosen one of the organizing tasks that are screaming out for me. But instead, I chose something fun and something that simply needed to be tackled ASAP.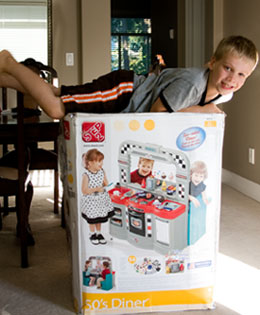 This Step2 50's Diner toy arrived a couple weeks ago for us to review.
It had been sitting in our living room waiting for me to get around to building it. And while Jackson was having fun climbing on the box – I figured the kids would probably enjoy it a bit more if we actually assembled it.
So time to tackle!
I had grand plans of assembling it all on my own. (I am one of those wimpy girls that hollers for my husband if tools are involved.) I was going to proudly show off my project to you, that I did all on my own.
But at the last minute, I wimped out. There were screws in there ladies! I know I could have done it on my own. But I hollered for hubby and he saved me with his power drill.
So here is our tackle – our family project this weekend. (Olivia enjoyed "helping" with the stickers.)
It is all complete – except for one missing knob. I am not sure how we misplaced that.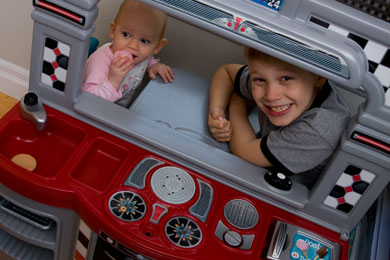 Even 4'4″, six year old Jackson can fit in to play with his sister. It is so cute to see him squeeze in to play with her. They even have been eating some meals in there!
Both of them love it – I am sure glad we assembled it. It is a hit! (Olivia is currently playing with it while I write this post.)