This post may contain affiliate links. Read my disclosure policy here.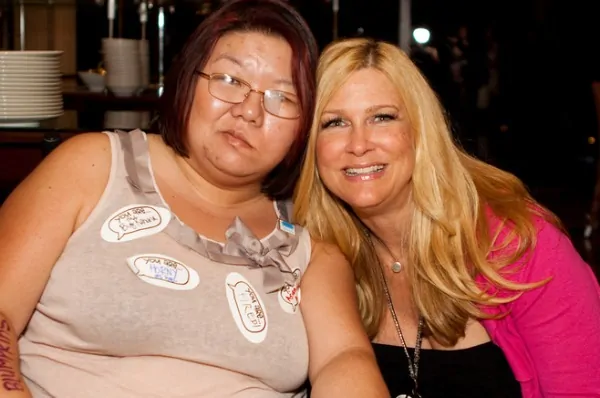 Anissa and Barbara
A fabulous long time blogging friend of ours, Anissa Mayhew, was at BlogHer'11 and Janice was lucky enough to see her. It's crazy how every year I look back in shock and disappointment that I missed seeing certain people. This year, I'm sad that I didn't get to laugh with Anissa in person.
Janice and I together interviewed Anissa and her husband Peter at BlogHer last year and Janice interviewed her solo in BlogHer'09.
Have you linked up your BlogHer posts in our BlogHer'11 Link-Up post. If you write about and/or post photos of the conference, add your links at that post. (You can add separate links for each of your posts.)
And you can see more BlogHer'11 photos on our Flickr page.
Mom Bloggers (and Dad Bloggers too!) post a photo on your site, link up and find others… Wordless Wednesday is tons of fun. (And I know it says "wordless" but I just can't bear to not write anything! If I had created it, I probably would have named it something different! LOL So feel to link up your word-full or word-less Wednesday photos!)
Leave the URL to your photo (clearly mine are never truly "wordless") and then visit others!
Here is a fun thumbnail linky:

And here is a basic linky if you prefer your linkies the good old fashioned way!

Thanks to Uisce for creating Wordless Wednesday.

Written by Susan, co-founder of this Mom Blog 5 Minutes for Mom
Did you know that Janice and I owned online toy stores before we started 5 Minutes for Mom? We still have them and one of our favorite gift ideas for preschool and school age children is a
kids rug
.