This post may contain affiliate links. Read my disclosure policy here.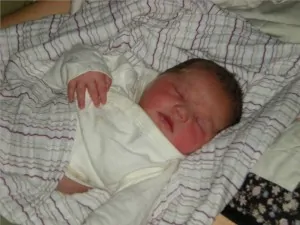 It began with a tweet in her twitter account, "my water broke!! : )"
And suddenly it wasn't just Stephanie who was anxious and excited. Many stayed on Twitter as long as possible to follow Stephanie's labor. And she was sweet enough to keep the updates pouring in.
now under 4 mins apart- getting stronger! My mom is here, midwife almost here and we're all very excited! : )
hubby's gabbing away with the midwife and I'm doing quite well- stronger every time… is this really happening!? : )
still moving right along and about to watch Baby Mama- ha- i am loving this homebirth thing!
in my room all quiet & peaceful, breathing
they're getting super strong, crunching celery in between, so good
1:40 am Ivy arrived!!!!
oh my. she's really here and she's perfect.
I have to admit, I was one of those glued to twitter awaiting Ivy's arrival. I was beaming when Stephanie finally posted that little Ivy was here.
Congratulations, Stephanie and family.
Happy Birthday, Ivy! She arrived at 1:40 am, today, September 15th, in Stephanie's bedroom, weighing 8 lbs 12 oz and measuring 22 1/2 inches long.
As we counted down the days until Ivy's birth, we thought it would be fun to have a guessing game with a couple of fun prizes for the five readers who came the closest to guessing baby Ivy's birthday.
Although nobody guessed the exact time, one reader was only an hour off.
Congratulations #70 – Ashley with your closest guess of "Sept 15 around 12:30 am… my birthday!" And Happy Birthday, as well. 🙂
Our other closest guessers are:
#110 – Christi
September 15 at 4:14 am
#126 – Kristel
September 15th at 4:46am
#9 – Nicole
Sept 14 at 9pm.
# 199 nancy
September 15th at 6am
Congratulations, ladies. You each win a Clipo Figure Bucket and a Tooth Tunes Junior.
You can follow Stephanie at her blog, Adventures in Babywearing. You can also find her at 5 Minutes for Parenting, where she is our Managing Editor. But right now, Stephanie is laying in bed with her gorgeous baby girl, completely awe-struck and in love.