This post may contain affiliate links. Read my disclosure policy here.
With a Grand Prize of $10,000 plus a trip to Las Vegas, Five Finalist Prizes of $1,000 each, and 200 additional prizes, the SanDisk You Tube Film Festival is a contest you NEED to enter!
So grab your point and shoot camera, switch it to video mode, and capture your life as it moves!
Kids don't often stand still.
So, while nothing can replace my devotion to my DSLR, I always leave a point and shoot camera in my purse to capture the spontaneous moments of my kids in motion.
Yes, I do have a fantastic Sony HDR Handycam. But for everyday life when I don't have my HDR or my DSLR with me, I just reach for a point and shoot. It does a great job and it is easy to keep handy.
The key is just to make sure that I have enough room, so I simply keep a large capacity memory card in my point and shoot. Then I am ready when they are!
SanDisk Point & Shoot Film Festival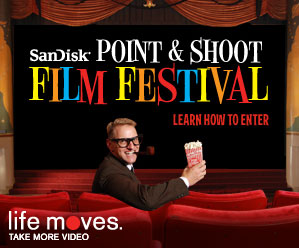 To promote their Life Moves – Take More Video campaign, SanDisk is holding a massive contest on YouTube with incredible prizes.
It is huge. So we want to make sure you all know about it.
And we're spinning off our OWN contest right here, to give you even more chances to win!
The SanDisk Point & Shoot Film Festival is an online video contest to find and display the most compelling user-generated videos taken on consumer point and shoot digital cameras.
Between September 16th and November 10th, entrants may upload their videos for free by visiting http://sandisk.com/lifemoves. Film festival contest entries will be considered in the following five categories:
"Kids Moves"
"Pet Moves"
"Dance Moves"
"Action Moves"
"Comedy Moves"
Prizes
The top 200 entrants to the contest will receive a SanDisk Ultra® II 4GB2 SDHC™ card, allowing them to easily capture more video using their digital point and shoot camera. The best video entrant in each category will be awarded $1,000 and the overall grand prize for the best video will receive $10,000 (including the $1,000 category prize) and a trip to Las Vegas.
To Enter The SanDisk Point & Shoot Film Festival
Contest entrants are not required to create new videos for the SanDisk Point & Shoot Film Festival. Existing and newly-shot videos that fit into the following criteria may be entered for consideration:

Participants must be 18 years of age or older and a YouTube member to enter.
All videos must be shot on a digital point and shoot camera, and it must be less than two minutes in length.
All videos must be taken in one continuous shot.
Participants don't need to select a category when entering, but videos will be judged according to set categories. Videos are eligible to win in multiple categories.

The deadline for contest submissions will close at 11:59:59pm ET on November 10, 2008. The top 20 film festival finalists and five alternatives will be posted to YouTube for public voting from November 18, 2008 – December 8, 2008. Winners for each category, including the overall winner, will be selected by the YouTube community. Category finalists and the overall winner are expected to be announced on December 15, 2008.

The Judging Panel will score each Eligible Video Submission based on the following judging criteria, each given equal weight:

How original/creative is the submission?
How well does the submission reflect one of the five "Life Moves" Creative Requirement categories in Rule #10?
How entertaining is the submission?
What is the overall impression of the submission?

The top 200 will be judged just as the other submissions are judged, but will be the videos that did not make the final cut.

Applying the above criteria, the Panel will evaluate, determine category placement for each eligible Video Submission, and select one "best" entry from each of the five categories. The Panel may assign more than one category to any Eligible Video Submission. Subject to verification of eligibility and compliance with these Official Rules, the top entry in each category as determined by the Panel will be deemed the Potential Category Winner and the second top entry will be the Alternate in their respective categories.

For more information and to enter the contest please visit http://sandisk.com/lifemoves/.
Show Us Your Video And You Could Win Here Too
BUT that is not all! We are having OUR OWN CONTEST fun here at 5 Minutes for Mom.com!

We have TWENTY SanDisk Ultra® II 4GB2 SDHC™ card to giveaway to our readers as well! So, if you want to get even more chances to win, leave a comment here with the link to a post on your site that includes the video you entered.
We will choose twenty of our favorites and publish a post showing those videos and allowing everyone to vote. We will award one SanDisk Ultra® II 4GB2 SDHC™ card to the creators of the top 10 videos based on votes and another randomly drawn 10 entries from the original set of comments on this post.
To Enter Our Contest:
Enter a video in the SanDisk Point & Shoot Film Festival.
Leave us a comment with a link either to a post on your own blog where you have embedded your video or a link directly to your video on YouTube.
If you have a blog, link back to this contest so that your readers can get join the fun too.
For our "5 Minutes for Mom" contest, we will accept submissions until Friday, October 17th. We'll announce the 20 finalists on Monday, October 20th and open voting. On Saturday, November 8th, 2008 we'll announce the top 10 videos based on votes and another randomly drawn 10 entries from the original set of comments on this post and award each winner one SanDisk Ultra® II 4GB2 SDHC™ card.
Remember to enter our contest, FIRST you must enter your video in the SanDisk YouTube Contest and THEN leave us a comment here linking to it.
Now – to get you all in the Point and Shoot Video mood – here are a couple quick videos I shot on my CyberShot this weekend of Olivia.
First Olivia enjoyed some "catch and release" fishing with her sunglasses.
After her fishing trip, she decided to just get right in there and go for a swim. Who needs a swimsuit? Life moves too fast for costume changes.
Just a note — we won't be entering these videos in the contest. Because we are Canadians and also because we are helping promote the contest, we aren't eligible to join in the contest.
So, have fun you lucky Americans and get filming. There are some serious prizes waiting – and we can't wait to watch your kids in action!