This post may contain affiliate links. Read my disclosure policy here.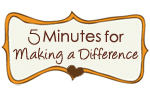 Welcome to our new outreach here at 5 Minutes for Mom, 5 Minutes for Making a Difference, where we plan on sharing various organizations and outreach programs with you, in hopes that together we can do a little something to make a big difference.
Today, I am hoping that we can make such a difference for Brady's Smile.
"On March 16, 2006, Brady Blaine Hinton was born at St. Vincent's hospital in Bridgeport, CT. He passed away two years later on March 16, 2008, his 2nd birthday. In between those dates, Brady endured a life complicated by intricate medical conditions. Through everything his little body endured, he never stopped smiling. He beamed from ear-to-ear when listening to music and experiencing the brightest of lights. He showed people that despite it all, you can maintain a positive attitude.

Having spent so much time in an ICU with Brady, we know how difficult and trying it can be on the child and care givers. Not a second would pass when we didn't try to make Brady as comfortable as possible in the ICU environment, by doing things like filling his crib with stuffed animals, music and constant love. While Brady was in the hospital, we received a blanket from an ICU nurse, which we used to bundle him up every night. He truly seemed more comfortable in this type of material and he would grab the blanket and rub it against his cheek.

The Brady Blankets program will provide homemade fleece blankets to babies and children in the NBSCU and PICU. Fleece blankets help provide a "secure" feeling to babies, especially premature babies, and are very soft and snuggly. It is our goal to provide blankets to all babies in both units as well as children who are coming out of surgery. Each blanket will be tied with a Brady's Smile ribbon and will go home with the child upon discharge."

– Annie and Matt Hinton, Co-Founders, Brady's Smile, Inc.

So here's where you come in. I would love to see how many fleece blankets we can make in a month's time, and send to Annie and Matt Hinton for their Brady Blankets Program.
No experience is necessary for making Brady Blankets. The estimated time for creating one Brady Blanket is just one hour! Have fun, experiment with different fabrics, different sized blankets! You can find directions on how to make a Brady Blanket, here.

If you would like to join in, please sign up using the linky below. Feel free to use this button on your own blog, if you'd like to help spread the word for Brady's Smile and our Brady Blanket Making Party.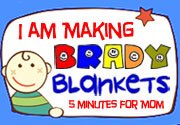 Once you have completed your blanket, please email us at 5minutesformom(at)gmail(dot)com. Please let us know the number of blankets you sent to Brady's Smile. If you post about your finished blanket(s), please provide a link as well. We'd love to see your finished product.
On October 14th, I will write a short post updating everyone on our efforts and sharing with you how many blankets that we were able to provide.

Your completed blankets can be mailed to: Brady's Smile, Inc. P.O. Box 320921 Fairfield, CT 06825.
Thank you so much. I am looking forward to reading your posts and seeing photos of your completed blankets.