This post may contain affiliate links. Read my disclosure policy here.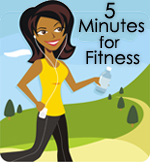 There are days when I barely have time to brush my hair, much less do a full workout. Yesterday was one of those days and this is when creativity is key. No matter how busy our days may be, everyone has time for at least 5 minutes of fitness.
Here is what I managed to do:
*60 walking lunges to/from the mailbox
*50 squats while on hold with the doctor's office
*15 push ups while playing on the floor with the baby
*15 tricep dips off the coffee table
*1 minute of jumping rope in the garage
*1 minute of wall squats while holding the baby on my lap (try this one, it is TOUGH!)
*1 minute of low plank before I finally went to bed
It's not going to get me to the Olympics, but every little bit counts! (and thankfully, I own a lot of hats! 🙂 )
How are you going to add 5 minutes of fitness to your day today?

This column is hosted by Lisa. She can be found doing squats and lunges over at Workout Mommy.