This post may contain affiliate links. Read my disclosure policy here.
How do you explain to a four year old boy why I won't be buying Bratz dolls for Julia? (If anyone has any tips, please let me know.)
Yes, now that our precious Julia is in our lives, I look at the styles of girl's clothing with new horror. As a youth worker, I have been far too aware of the fashion trends that young girls are presented with. But now as an aunt (and personal shopper) to my beloved Julia, I am horrified as each year the styles get worse. While she is only a toddler now, I know that all too soon I will be shopping in the girls' section, rifling through short skirts and skimpy tops trying to find appropriate clothing for a young girl.
I remember being an eleven year old and refusing to take off my baggy t-shirt that covered my bathing suit! We would never have imagined walking around in skintight clothing that barely covered our adolescent bodies. My how times have changed!
It is a new and frightening world out there where six years old girls are dancing provocative moves they don't even understand and wearing clothes that turn preadolescent girls into sexual objects.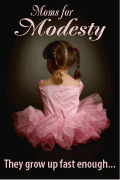 Fortunately there are people demanding for it to stop and looking for an alternative. Jules at Everyday Mommy has presented a great idea called Moms for Modesty. It is receiving tons of support in the blogging world and if you haven't check it out yet I encourage you to do so.
Our children are precious gifts from God and they deserve to be in a world that treats females with respect and not as sexual objects.