Project to Tackle: Server Stuff
As some of you may have noticed, we've been having lots of server problems lately. Both "5 Minutes for Mom" and "Faith Lifts" have been down several times in the past week and that is just no good.
So this week we're tackling some backend server stuff.
And therefore we won't have any fun before and after pictures for you.
During the next day or so you may experience some downtime here at "5 Minutes for Mom" and "Faith Lifts" and some comments may be lost.
Our sincere apologies for any inconvenience, but please bear with us and hopefully our server troubles will soon be behind us.
Also, we are sorry that with all the server hassles lately we're very behind with posting directory listings and visiting many of your blogs. Janice tries to visit everyone who comments, but she is very behind. Thanks for your understanding as we try to get caught up with everything.
————–
Again our tackle this week did not require any home organization…

But if your next tackle is a tough one…

Remember you can Ask Our Organizer Jessica for advice.
————–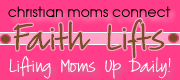 And if you're tired while tackling your house work… click on over to Faith Lifts for a quick 'pick-me-up'.
Join Us For Tackle It Tuesday

We're making housework blog-able!

Each week on Tuesday, we are posting before and after pictures of a project or trouble area that we tackled this week.

Find out more about Tackle It Tuesday here.

The project can be little or big – whatever you want. Basically, Tackle It Tuesday is about giving ourselves incentive, deadlines and satisfaction in getting our household tasks done.
If you tackled a project this week, just add a comment and add your link below.