This post may contain affiliate links. Read my disclosure policy here.
They are moms like you and me.
They have children like yours and mine.
They are thrilled with every sweet smile and saddened by every tear.
They worry about their health and welfare.
They share the same hopes and dreams for their futures.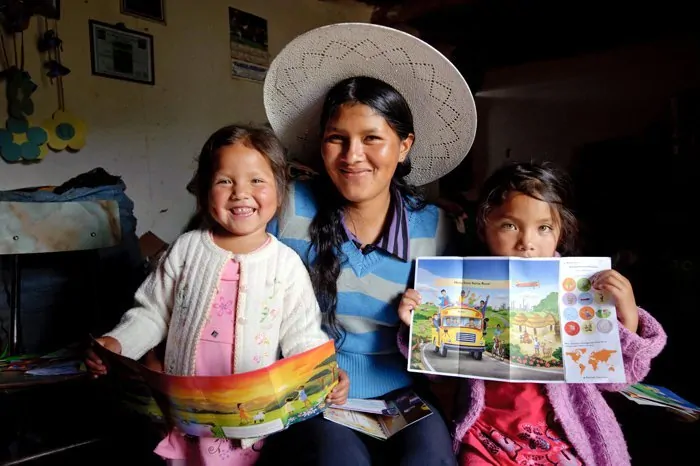 The difference is:
More than 42% of them live on less than $2 a day.
Many have less than adequate sanitation and access to safe water.
Malnutrition results in 27% of children exhibiting stunted growth.
They have limited health care, and diseases common to the area cause this country to have one of the highest infant mortality rates in South America.
Only 78% of their young children are enrolled in school.
We can change these statistics!
By sponsoring a child in Bolivia through World Vision, we can make a difference in the lives of children and their families.
Change the life of a child through World Vision by:
Praying for them.
Writing to and emailing them.
Sending small gifts.
Possibly even visiting them.
World Vision changes a community with the help of sponsors by providing:
Educational materials.
Dental and medical exams.
Vitamins and medications.
Education for small business owners.
Jobs.
Our sponsored children are already changing us.
My husband and I sponsor four year old, Miguel, and six year old, Abigail.
We pray for them and for their families every day. We hope for their future.
We sent emails to them, and we look forward to writing to them and sending them a photo of ourselves with a small gift very soon.
We are beginning to think about them as just two more of our children. Since our marriage we have added to our family through birth, adoption, and foster care. Recently we are thrilled to have had it grow with grandchildren.
So for us, sponsoring has just provided one more way for us to add to our family. Although Miguel and Abigail don't live under our roof, like our children and grandchildren they most definitely live in our hearts.
Won't you consider expanding your family by sponsoring a child in Bolivia through World Vision?
Written by Deb, wife, mom, "gram," and busy blogger at Counting my Blessings. Deb is also a contributing editor at 5 Minutes for Faith.