This post may contain affiliate links. Read my disclosure policy here.
Lolli here…
I am no longer used to having all 5 kids at home. Since my youngest started school last August, I have been able to have a few hours every day to concentrate on my work. I got into a good routine and stayed busy while they were in school. And now that they are all home for the summer, I am still just as busy….but with much less structured time on my hands.
I admit that I have had my moments of frustration since school let out last month. Not only is it harder for me to stay on top of my work, but 7 people in a small townhouse all day, every day inevitably leads to fights. Some days I want to banish the kids to the back yard and not let them come back in to the house until dinner is ready.
And then I found a picture like this on my memory card from last week and it made the challenge of juggling work and kids and fighting and messes all worth it: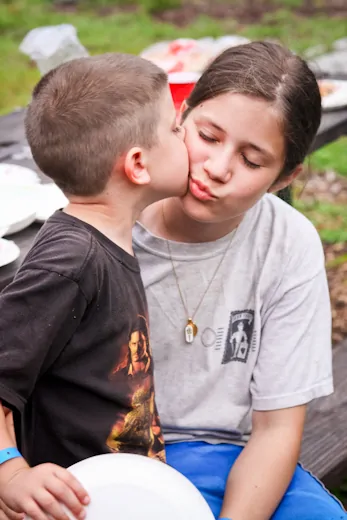 This week, after feeling my mix of emotions over the family time we had, I came across an article on our sister site, 5 Minutes for Special Needs by Kimberly, author of The Simple Life. I can completely relate to her sentiments.
Yesterday was rough all over. I'm still recovering from our trip last week – behind on everything. My semi-chronic neck pain is back with a vengeance thanks to the long hours of driving. I barked at the kids about little stuff but didn't have the energy to keep them occupied and out of trouble. I even burned the broccoli. I turned on the burner to let the broccoli steam, then went to check my e-mail which hadn't been working earlier in the day. While I was doing that I noticed a long overdue project sitting on my desk and started working on that. Sometime later the aroma of blackened broccoli wafted in. Of course usually I would have had more broccoli around, but not yesterday. This week I had decided to just use up what I had on hand because it was the perfect amount. It fit the rest of the day…
Written by 5 Minutes for Mom managing editor Lolli. You can find me blogging at Better in Bulk and tweeting at @1momof5.
*Photo by Lolli*