This post may contain affiliate links. Read my disclosure policy here.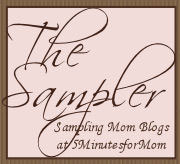 5 Minutes for Mom brings you exclusive samplings from the best mom blogs in our weekly column, The Sampler, hosted by 5 Minutes for Mom contributing editor Shera, from A Frog In My Soup.
Balancing life and parenting can be rather complicated whether you have 2 children or 6 children (a little hint as to why The Sampler is going up later than usual), so when Sarah sent me this feature post which puts that so perfectly into words I knew I had to share it with all of you! Sarah is the mother of five children, "that wears me down some days and lifts me up on others. It wasn't my first plan to have five kids and be a stay-at-home mom. I was going to be a college professor with two children. I'm grateful for my Plan B, though. It's taught me more, and given me more joy than I could have ever hoped for." You can find Sarah at Worlds Greatest Mommy, where you will truly find inspiration, encouragement and life as a busy mom!

What Does Mommy Mean?
She's only eight years old, but she wants to know something important. She's looking forward into her future, and wondering what will be there for her. She's fairly sure that she'll have children. She wants to prepare now so that she can be a great mom. And so she asks me..
"What does it mean to be a mommy? What do I need to know?"
But I'm in the middle of a million things. Her baby sister has broken a glass bowl and the pieces lay shattered on the floor. Her older brother wants me to see him get through a new level on a video game. I don't even know where her younger brothers are, and I promised all the kids that we'd go to the library to see a traveling animal show.
So I say, "Just a minute." And then I rush around trying to do everything necessary…everything on the list.
After a long day, I tuck in my children and look forward to going downstairs to a giant slice of chocolate cake and sitcom reruns. I've earned it, that's for sure.
My daughter is the last one to kiss. Minutes more until I have some freedom. And then I remember her question…still unanswered.
"What does it mean to be a mommy? What do I need to know?"
As I walk into her room, I wonder if the hectic day has taught her lessons, I'd rather not have her know. I search back through my memory and wonder how anyone, especially an eight-year-old girl could find glory and value in the things I've done today.
I sit down and concern for her feelings and needs banishes the memory of what waits downstairs. I'm needed here and the need is great.
I tell her that I'm sorry I didn't have time earlier to answer her questions.
She sits up and smiles at me.
"I think I figured it out."
I feel a little sad. She didn't need me after all. I wonder what warped view of motherhood I exhibited for her today that managed to answer those questions.
She leans in close and hugs me and whispers, "I think you just have to love your kids a lot."
I'm crying softly, because it's hard to see that any example I could have set would have helped her arrive at that conclusion, but I'm grateful. And I hold her for a little longer and we laugh at some of the mishaps of the day. I twist a spiral curl in my fingers and tell her she's growing up so fast. She kisses my cheek and says goodnight.
I know it won't be long until she sits on her own daughter's bed after a day like the one we've had. I think I could take a little pride in the training she's had for those moments waiting in the future. We strive for grace as mothers, and sometimes our daughters teach us the best lessons.
I walk downstairs and realize that the sweetest part of my day has already happened.
~ Written by Sarah of World's Greatest Mommy.
If you would like to be considered for The Sampler please review The Sampler Guidelines.
This column is Hosted by Shera. She can be found at A Frog In My Soup