This post may contain affiliate links. Read my disclosure policy here.
I need help adding fitness into my beyond-busy life!

So the Workout Mommy herself has signed on to be not only my new personal trainer, but YOURS too!!!

Every Thursday, in our newest column 5 Minutes for Fitness, Lisa (aka Workout Mommy) is going to help us add at least 5 Minutes more exercise into our days. So, if you're better than I am, and you already get some exercise, you can still be challenged to add a few more minutes. And for those like me, well… we'll start with 5 minutes and work our way up!

Okay Coach Lisa, we're ready to go!

~Susan

As a busy mom of two, I do not have a lot of time to devote to exercise. I let my gym membership expire because the commute to and from was eating up too much of my day. My children did not enjoy the childcare room and honestly, it was just too expensive.
Fitness is important to me though, both for health and sanity reasons! As much as I cherish my time to exercise alone, there are days when that simply is not going to happen. Therefore, I have come up with some creative ways to slip a little fitness into my busy day.
Here are a few ideas: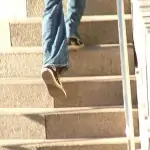 Quick cardio
Run up and down the stairs several times to get your heart rate elevated. No stairs in your house? Do a minute or two of jumping jacks instead. Involve your kids by having them count with you!
Laundry room squats
I have a front loader, so with each handful of laundry I shove in my machine, I must perform the perfect squat. Remember, knees should stay in line with your toes and SQUEEZE your glutes!
Lunges
Spend a few minutes doing only lunges, either stationary or walking. Going to the kitchen for a drink? Lunge your way there. Outside playing with the kids? Lunge around the yard. Heading to the potty bathroom? Yep, you got it, lunge your way there.
Clean-ups
Find yourself on the floor cleaning up a spill? Do as many push ups as you can while you are down there, either on your knees or military style. Don't worry, that spill will still be there when you are done!
Triceps
Sculpt the muscles on the back of your arms by doing a few sets of tricep dips off your coffee table.
Plank it
Work your shoulders, abs, and low back all in one shot. Get down on the floor in a military push up position and just HOLD IT! Draw your abs in and don't let your lower back sag. After about 20-30 seconds your arms and abs will be having a party!
Dance party
Put on some good tunes and dance your way into a sweat with your kids. Fun and fitness for everyone.
These are just a few to get you started. Do you have any that you can share?
Remember, even just five minutes of fitness is better than nothing, so put on your shoes, grab your water, and get moving!
picture source: Polite Chaos